Apache Trail, Payson and Mogollon Rim, Tonto Natural Bridge, Desert Belle, Boyce Thompson Arboretum, Kartchner Caverns

Phoenix, Arizona, area offers many attractions for short-term and long-term visitors within the metropolitan area. But there are also some wonderful things to take in just a short distance outside the metropolitan limits. Check out these six ideas for day or half-day excursions.
1. Apache Trail
Apache Trail, east of Apache Junction, is a scenic, winding drive through mountains, canyons, and desert landscape. You can make this a half-day trip excursion, going as far as Tortilla Flat for lunch and then returning, or a full day doing the entire circle route past the Roosevelt Dam, on to Globe, and back into the Phoenix area. Note that the full circle drive is not for the faint of heart.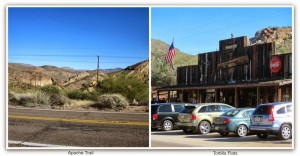 2. Payson and the Mogollon Rim
Payson is approximately 80 miles from central Phoenix. It is a pretty drive on highway 89. The landscape changes as you slowly climb to 5000 feet. Payson is on the western edge of the Mogollon Rim, a giant, slanting escarpment with high limestone and sandstone cliffs. Turn onto highway 260 just north of Payson and drive through ponderosa pine country.
3. Tonto Natural Bridge State Park
Tonto Natural Bridge State Park is tucked in a valley surrounded by pine forest between Payson and Pine. It is believed to be the largest natural travertine bridge in the world. Travetine is a form of dissolved limestone created by spring water tumbling over rock. Visitors can stand on top of Tonto Natural Bridge or hike below on one of the trails.
4. Desert Belle Cruise on Saguaro Lake
Saguaro Lake is a reservoir on the Salt River, created by the construction of the Stewart Mountain Dam. It is located in the Tonto National Forest 20 minutes from Mesa. Ninety-minute narrated cruises on the Desert Belle are a relaxing way to witness the flora and fauna first hand and learn more about the landscape. The Desert Belle is a 143 passenger, two level boat that sails from the Saguaro Lake Marina.



5. Boyce Thompson Arboretum
The Boyce Thompson Arboretum, an hour drive east of Phoenix on highway 60, is my favourite place to see and learn about desert plants. The park features plants from the Arizona desert and deserts around the world, set in a natural setting with a mountainous background. After your visit, drive 3 miles further up the road to the town of Superior for lunch or a snack.
6. Kartchner Caverns State Park
Kartchner Caverns State Park is a "live" limestone cave 9 miles south of the town of Benson, which is 160 miles from Phoenix on the I10 south. On a 90 minute tour through the cavern, you will see a variety of unusual calcite formations, including stalacites dripping from the ceiling and stalagmites reaching up from the ground. Many of the formations have been growing continuously for thousands of years and are continuing to grow and form.
The cave was discovered in 1974, but did not become public knowledge until 1988, when it was purchased for a state park. Extraordinary care was taken in its development to preserve its pristine condition. Those precautions continue today as tour groups are carefully led through the caverns.
All tours are led by a trained guide. No self-guided tours are available. I experience mild claustrophobia from time to time and was concerned the tour might post a problem for me. I was fine. There was always ample space and light. Tours can fill up, especially on holidays. Purchasing tickets in advance is recommended. Videos on the park web site give an overview of what you'll see.
PIN IT