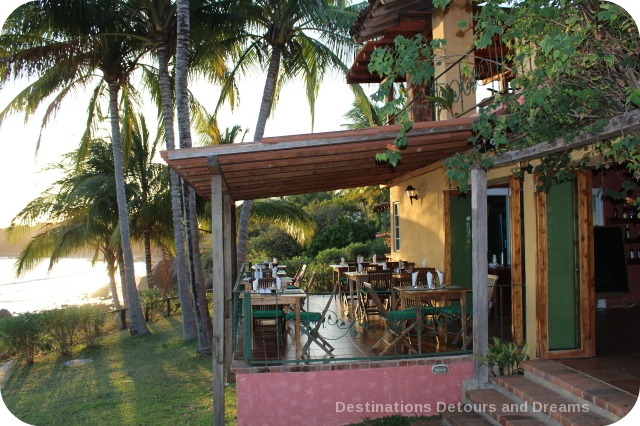 The small town of Pedasi on the southeastern tip of Panama's Azuero Peninsula
has plenty of good dining options
Pedasi is a small town (population 2,400 as of the 2010 census) on the southeastern tip of the Azuero Peninsula on Panama's Pacific coast. The area is known for world-class surfing and sport fishing. In recent years the town has attracted a small expat community. I spent a month in this quaint town and found it to be a friendly place where locals, tourists and expats intermingled. The pace of life is slow. People sit on their front porches in the evenings and visit. Families walk and go out together. Chickens and dogs roam freely through the streets. At the edge of town you're likely to see a horse tethered to a tree. Within a couple of blocks you are in the countryside. It was a laid-back place to spend a month. The number of good restaurants was a delightful surprise.
Another surprise was the number of Italian restaurants, serving Italian specialties such as wood-fired pizza, home-made gnocchi and fettuccine, and tiramisu. My husband and I had a gracious and delicious dining experience at Ristorante Pasta e Vino, a house converted into a restaurant. The menu features daily specials and recipes use fresh herbs from the owners' garden. My appetizer was ceviche, the first time I'd had that dish. Tasting it, I wondered why I'd never tried it before.
Ceviche is a traditional dish of raw fish cured in citrus juices and spiced with chili peppers, onions, salt and cilantro. A cooked version, ceviche frito, is also popular in the area. Battered and fried bits of fish are treated with lime and peppers and served over spiced citrus onions and peppers. I tried this at Los Vientos Beach Club just outside of Pedasi. It was also tasty.
Fish is found on many menus. Yellowfin tuna, Pacific sailfish, snapper, marlin and grouper are some of the fish caught in the area. Traditionally fish is fried whole and served with patacones, twice-fried plantain disks. Other traditional meals are based around rice, corn, beans and coconut. Arroz con pollo (chicken with rice) is a common dish. Yucca fries were served at many restaurants. I took to ordering them instead of potato fries. They were filing and usually made from fresh yucca. The potato fries were from frozen.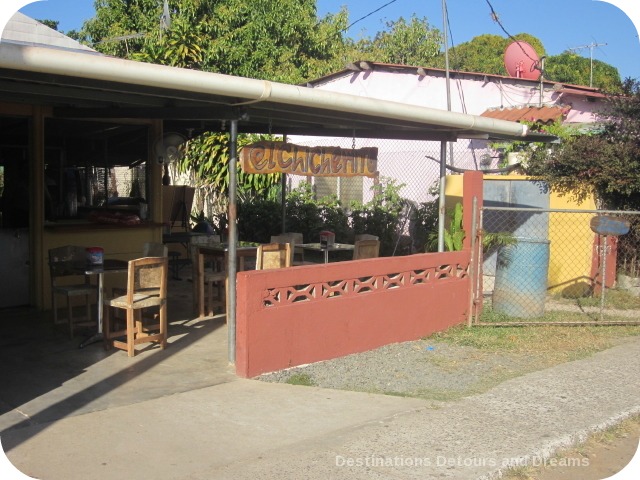 There are several fondas (local restaurants) around town serving inexpensive, traditional food. Two popular ones are Mama Fefa and El Chichemito.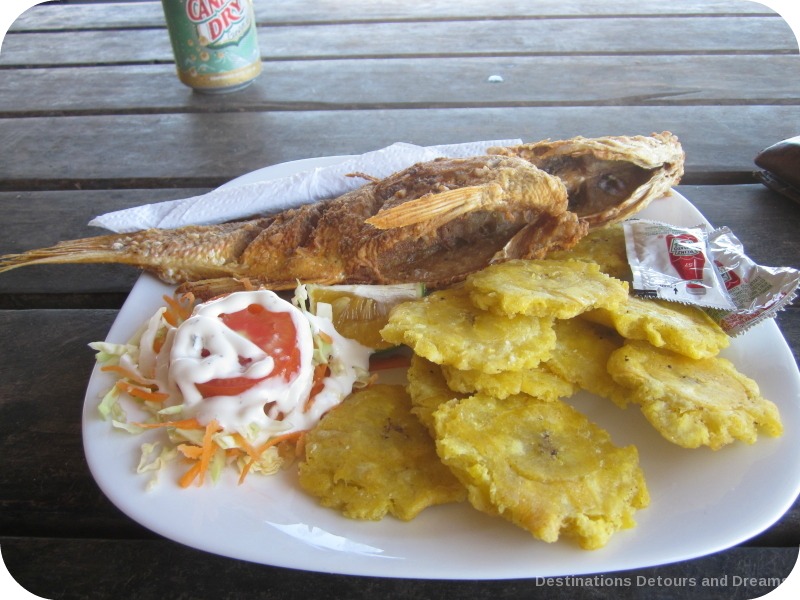 Smiley's on the main street is popular with expats and serves a mix of American standards and Panamanian foods. The ceviche was a bit too tangy, but I enjoyed the tuna so well I ordered it again on a subsequent visit. (This area is known as the "Tuna Coast") This is also the place to come if you are longing for American food, such as burgers, ribs, steaks and wings, American atmosphere and English conversation. There is live music on Tuesdays and Fridays. Band size varies and includes a number of expats. There is also a small bookshelf tucked into one wall where people can exchange books. We used this to find new English reading material when we'd finished the books we brought with us.
Bienvenidush is a funky bistro serving Mediterranean and middle-Eastern food. The bed and breakfast Casa Margarita is open to the public for breakfast and offers a good choice of hearty breakfast fare. I liked the muffins and croissants at The Bakery. Pizza and sandwiches are on the menu throughout the day, This was where we bought fresh bread to take home. Its patio was frequented by people with laptops and tablets accessing the free wi-fi available in the town. The Bakery is near a hotspot.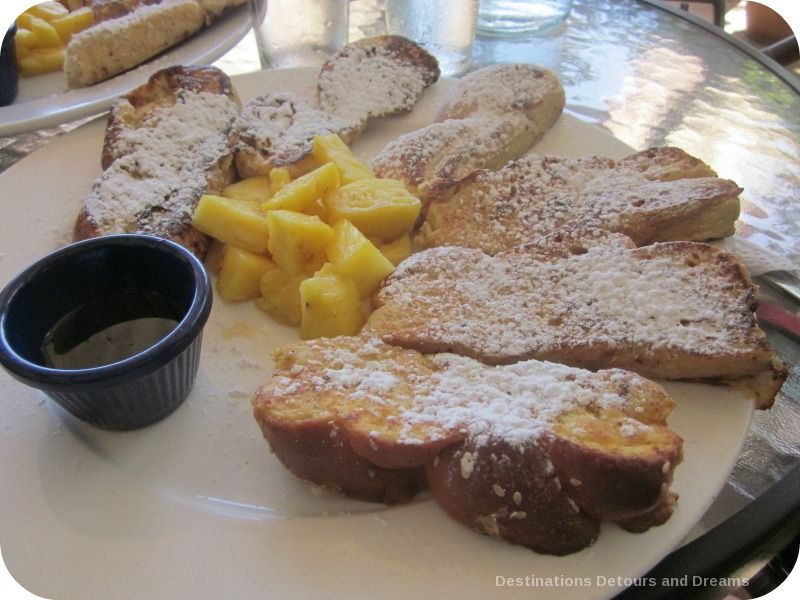 Mare Bonvita, a fusion restaurant, was recommended by the owner of the house we rented. Chef Luis offers a menu which changes weekly. We went to this restaurant just off the town square one evening only to discover it was closed and items were being packed up. We were told they were moving to a larger location at the back of a hotel property at the north end of town. The next week we went to the new location and shared a plate of paella, a special that week not list on the chalkboard menu, and the tastiest coconut flan I've ever had.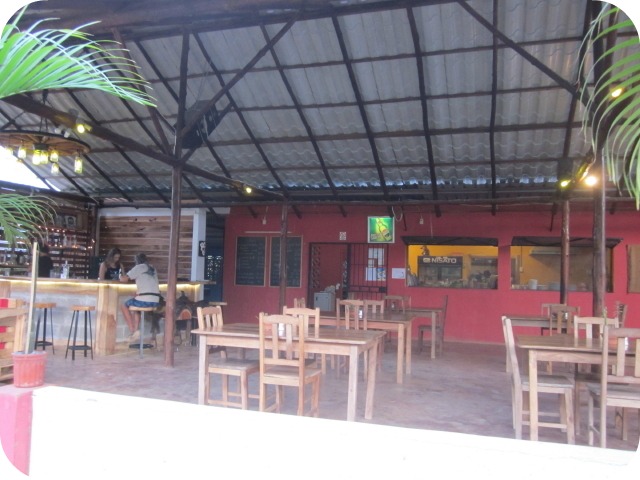 Tortuga's is a Mexican restaurant owned by Canadians from Montreal, offering nachos, tacos and fajitas. I had chicken fajitas and my husband had fish tacos. Both were very good. I was thrilled to find a tasty guacamole accompanying my meal. I hadn't seen an avocado in the stores and asked the waitress where they got them. She said they'd been in Chitre that day and had gone from store to store buying up all the available avocados. (Chitre was a little over an hour away.)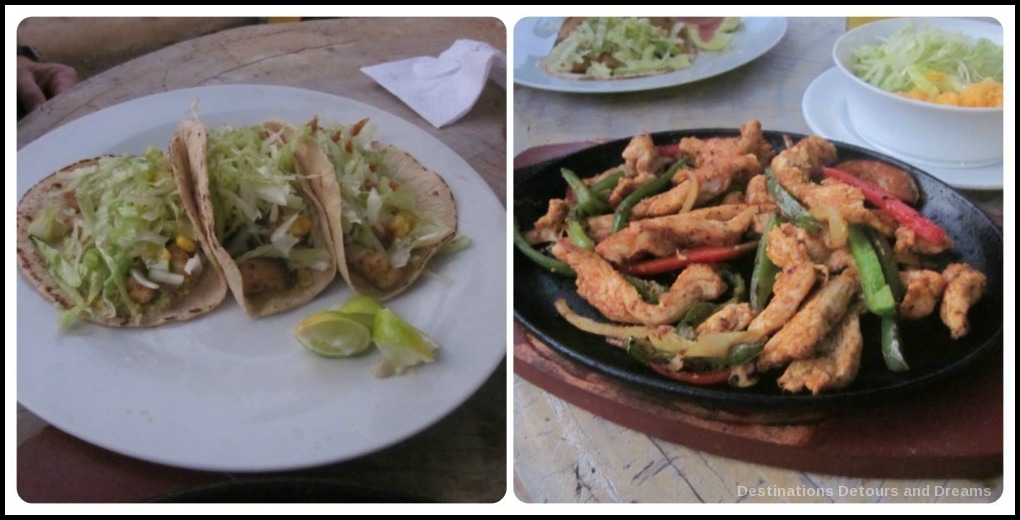 Restobar Maestra Vida is a creperie. Both my dinner and dessert crepe were delicious. A courtyard area contained a stage with karaoke set-up. We were the only diners in the restaurant when we first arrived. The owner turned on the system and played guitar and sang for us. He was quite good. Before we'd finished dinner, a larger group arrived and sat in the courtyard and he played for them too.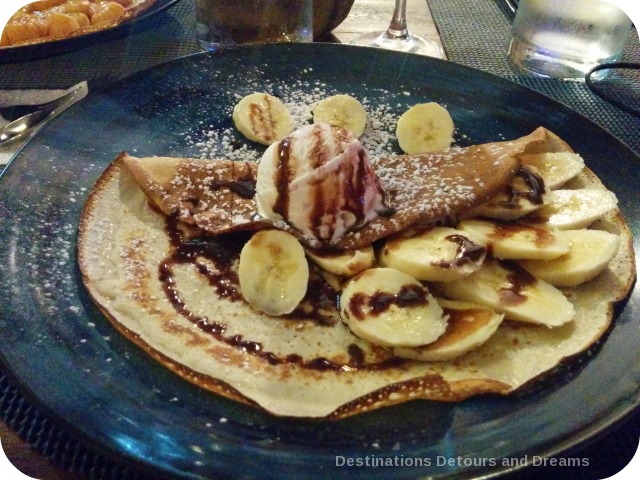 The Corner is a Spanish restaurant offering a selection of tapas and other Spanish dishes (with a few Panamanian items). It was recommended to us by an expat and we initially had trouble finding the place, located a couple of blocks off of town square. It was a good thing we did find it. We shared a charcuterie plate and enjoyed the cozy atmosphere. We went back the next day for lunch and had an excellent bowl of Sanocho, a traditional Panamanian chicken soup with ñame (a type of yam), yucca and cilantro. The owner told us the free-range chicken came from a farm he owned in another part of the country.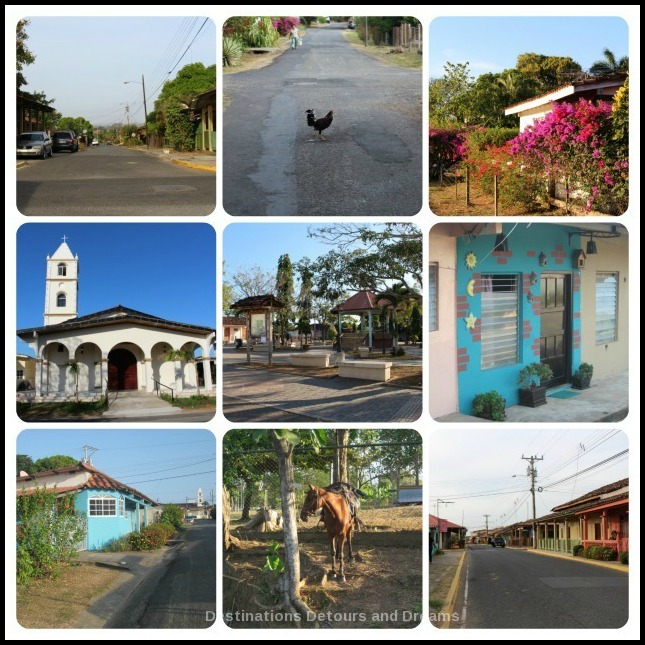 For a small town, Pedasi had a lot of dining options. There are others we never made it to. And more great restaurants are found if one travels beyond town limits. (The top photo is from one of the out-of-town places, Villa Romana, a resort restaurant ten kilometres outside of Pedasi with romantic sunset views across the Pacific.)
A word of caution: Some Pedasi restaurants are closed on Mondays or Tuesdays or both.
PIN IT