Amber Cove Shore Excursion: Hands-On At A Women's Chocolate Co-op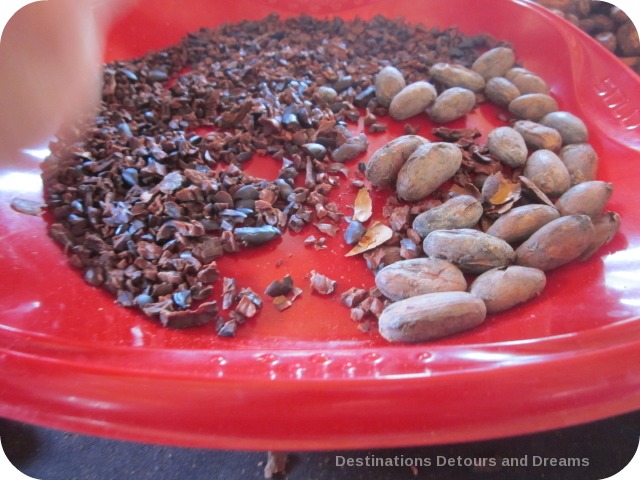 A hands-on cruise shore excursion at a women's chocolate co-operative in the Dominican Republic covers the full chocolate cacoa bean to chocolate cycle and makes an impact in the community
Last updated June 2023
If your Caribbean cruise takes you to the Amber Cove port in the Dominican Republic and you are looking for an out-of-the-ordinary shore excursion, consider a hands-on experience at Chocal, a women's chocolate co-operative. You'll learn a lot about chocolate, from the planting of cacoa to the roasting of the beans to the magic of turning them into chocolate while making a difference in the in the community.
I went on this excursion when it was part of the offerings by Fathom, a cruise experience brand offering social impact travel. Fathom no longer exists, but the shore excursion does. It is available from Carnaval Cruise Line, Princess Cruises, and Holland America. This post is about my experience.
Chocal is a women's chocolate-making cooperative in Altamira just outside of Puerto Plata in the Dominican Republic. The Dominican Republic is one of the poorest countries in the Caribbean and has a high unemployment rate. Altamira is a rural area with few jobs. Chocal was formed in 2007 and  provides employment for over 20 women, women who are able to work close to home and family because of the cooperative.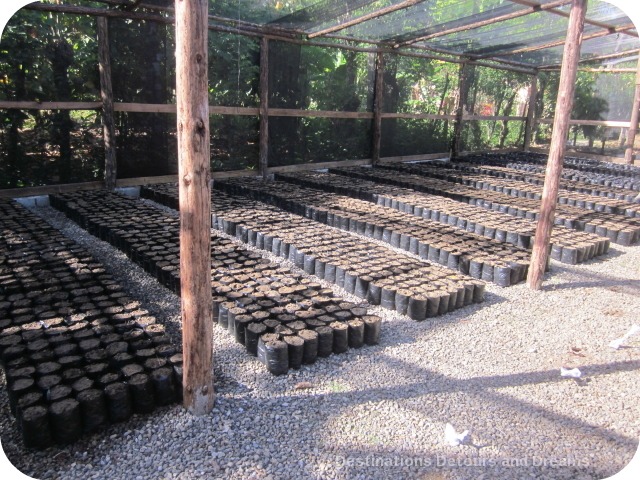 We started our day at a nursery, planting cacao seeds. The seedlings will be ready to be sold in three months. IDDI is working with a local organic farmers group to provide the seedlings to local farmers at lower prices. The trees start to produce fruit in three to five years and continue to produce for twenty-five years.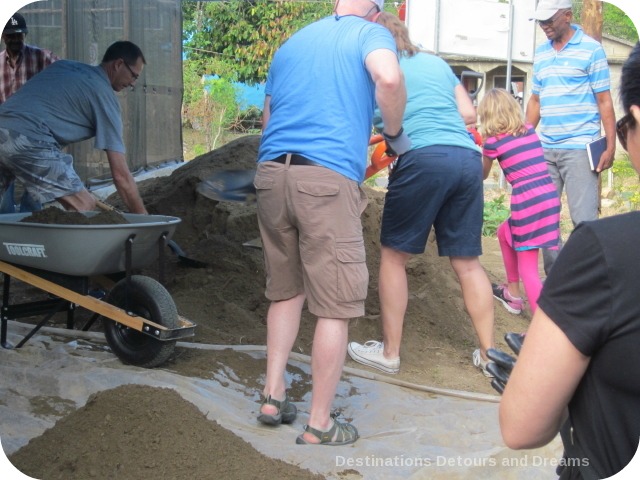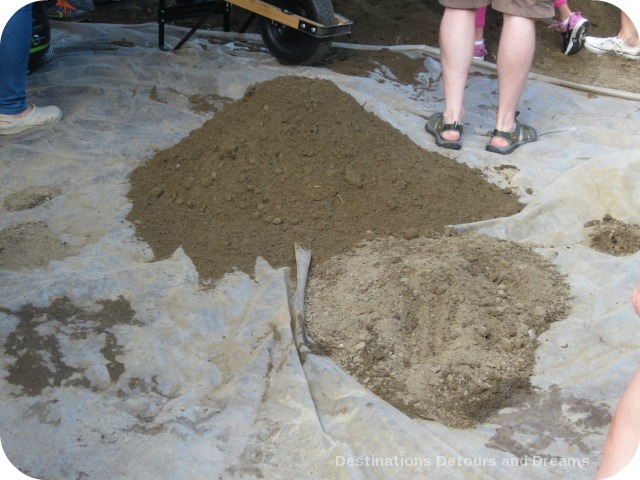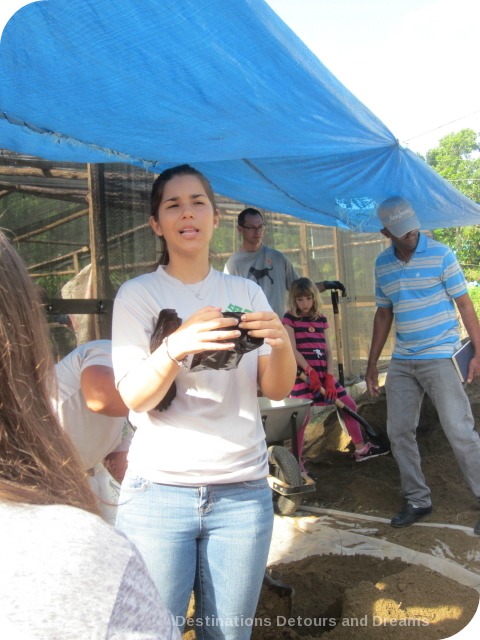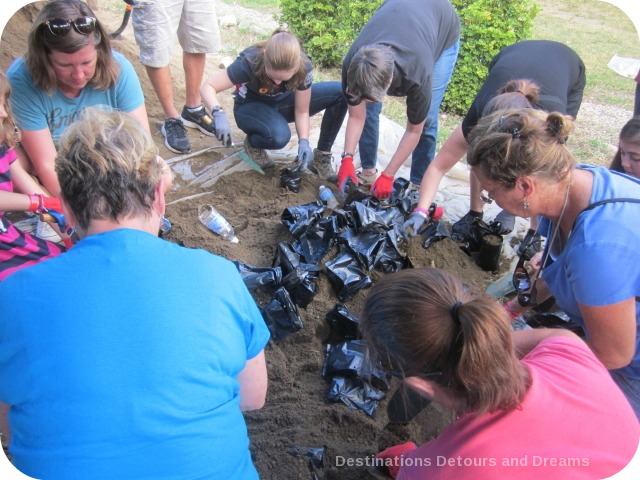 After we filled the bags, some of the group carried them into the covered part of the nursery, where others put seeds in and added them to the group of planted bags already there. I did not get a final tally of how many seed bags our group did that morning, but about halfway through our work the tally was 126.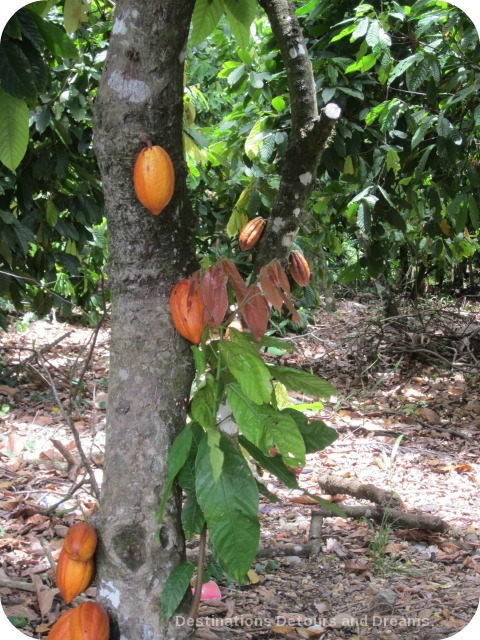 All chocolate starts with the cacao bean from the Theobroma Cacao tree. The tree only grows in tropical equatorial forests. The Dominican Republic is a major world producer of cacao and a leader in organic and Fair Trade cacao, much of which comes from small-scale farms.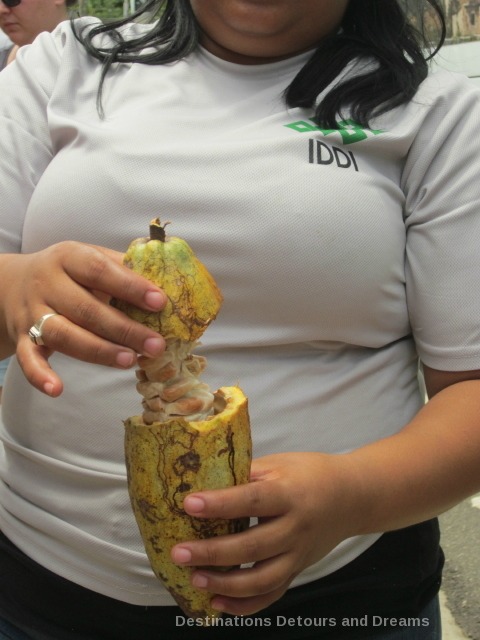 Ripe pods are removed from the tree and opened within one week to ten days to extract wet beans. The best way to open is with a wooden club. A machete can be used but it can also damage the beans. I've been told the white pulp surrounding the beans is quite tasty but I haven't tasted it myself. The next step in the process is fermentation. The most common method is to enclose heaps of bean in banana or plantain leaves. The process takes about five days.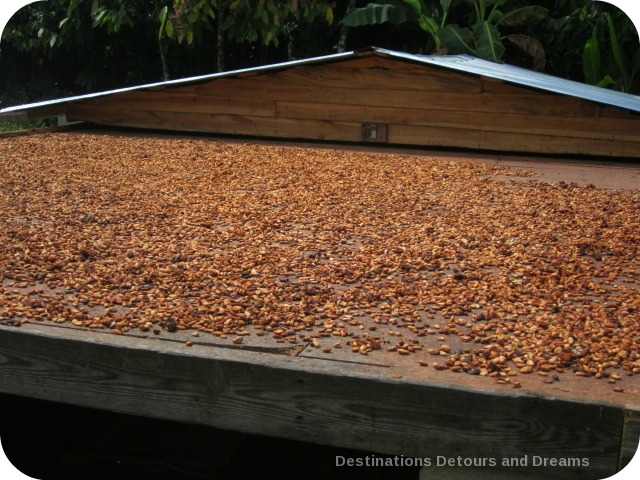 The fermented beans are then dried to reduce moisture from 69% to about 7.5%. Sun drying takes approximately one week with adequate sunshine. Dried and fermented beans can be stored in a cool, dry place for years. Chocal gets delivery of dried and fermented beans in 50-70 kilogram sacks.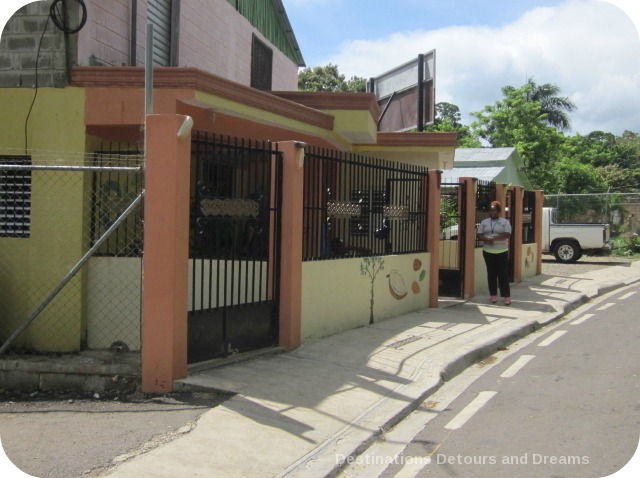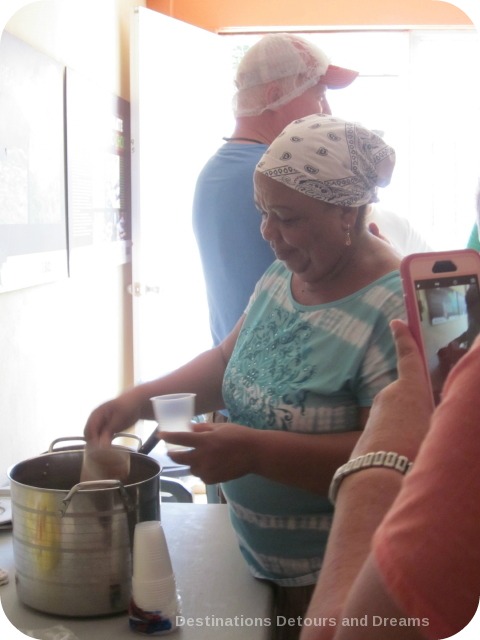 At Chocal, we worked on the most time-consuming and simplest tasks, tasks which we didn't need to be chocolate-making experts to do. This gave the Chocal women more time to concentrate on the parts of the process requiring skill and expertise. A few women worked with us to ensure quality control and IDDI guides helped with translation.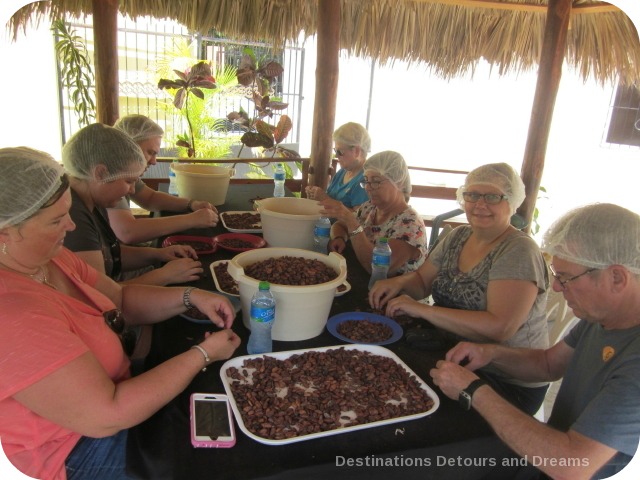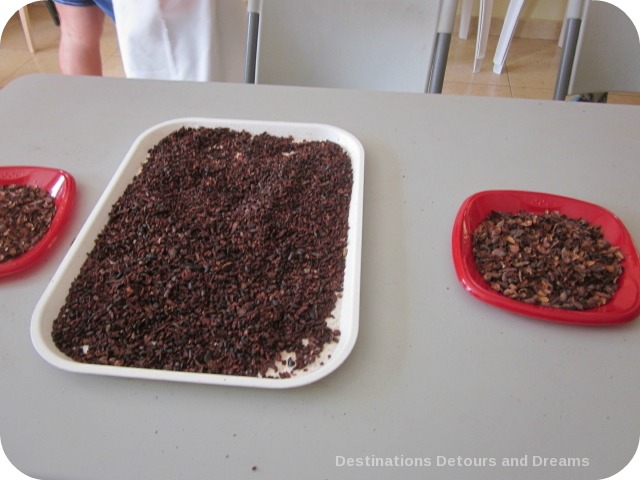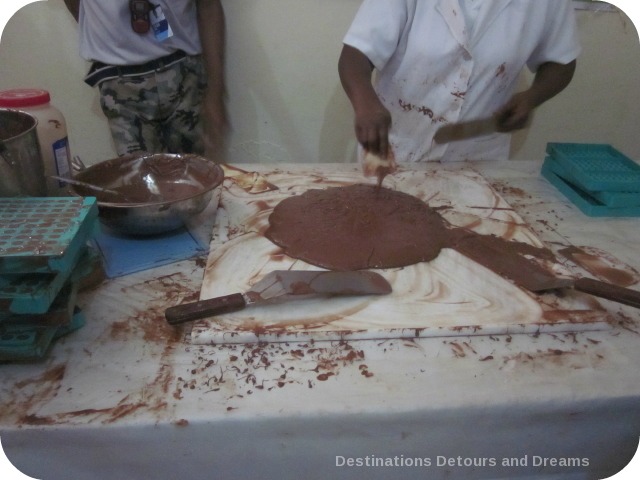 The art and magic of turning the nibs into chocolate through grinding, conching and tempering was done in the kitchen. We did not have access to that room for sanitary reasons, but we did get a chance to pour chocolate into molds.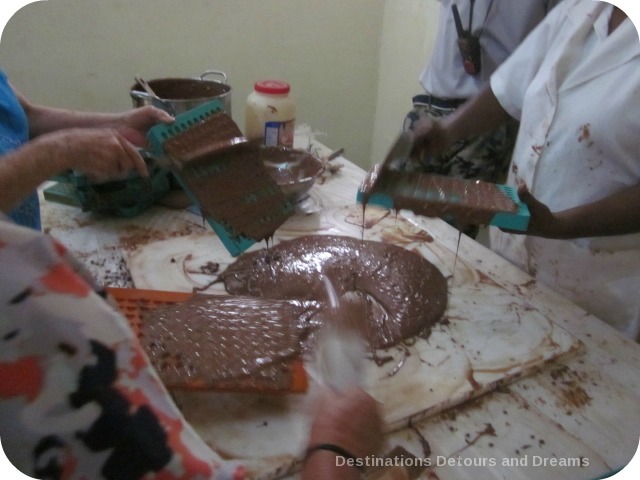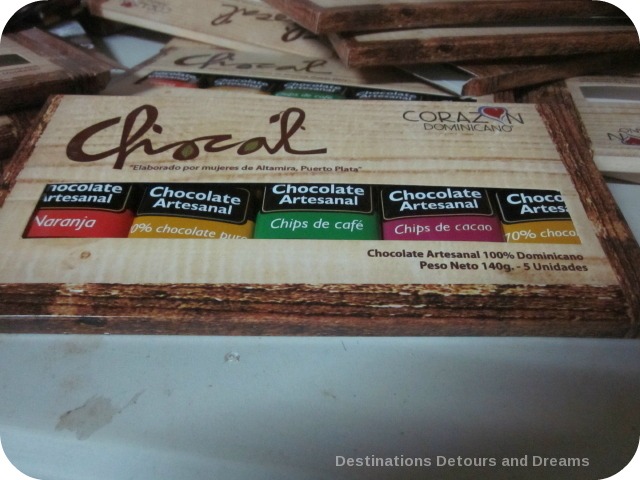 When Chocal started in 2007, it produced and sold cocoa balls. It later expanded to bars with the help of U.S. aid to acquire machinery and training from European chocolate-making experts. It now produces five kinds of bars – milk chocolate, orange-flavoured, one with cacao nibs, one with chocolate chips, and a 70% pure chocolate. They are working on a white chocolate but aren't quite there yet. They also make chocolate wine. I had a taste of this white-coloured wine. It was a little bit on the sweet side but did not taste strongly of chocolate. Chilled, it would make a nice summer afternoon refreshment.
Chocal sells its bars to local grocery chains. The women currently work for minimum wage (8000 Dominican pesos a month which is roughly $174 U.S. dollars at July 2016 exchange rates). They are working to pay off their loans to get the business going stronger before taking more money for themselves or bringing on additional women.
During our couple of hours at Chocal, our group of 25 people sorted 125 pounds of nibs and packaged 820 chocolate bars. Perhaps our biggest impact took place in the attached store – our group bought a total of $254 U.S. dollars worth of product.
It felt good to be able to help the community, even in a small way, and I learned a lot about the chocolate process.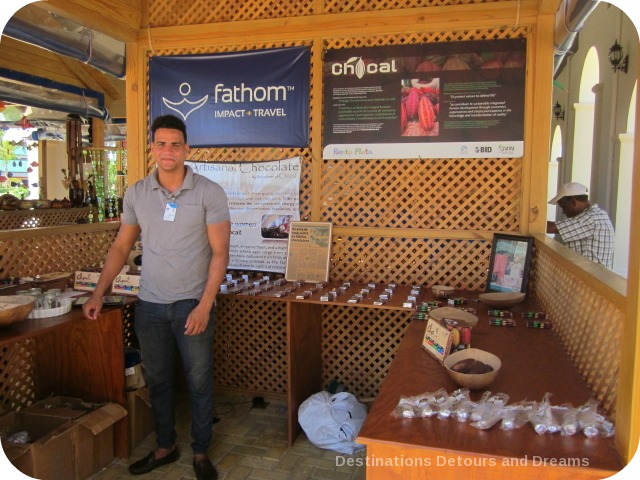 PIN IT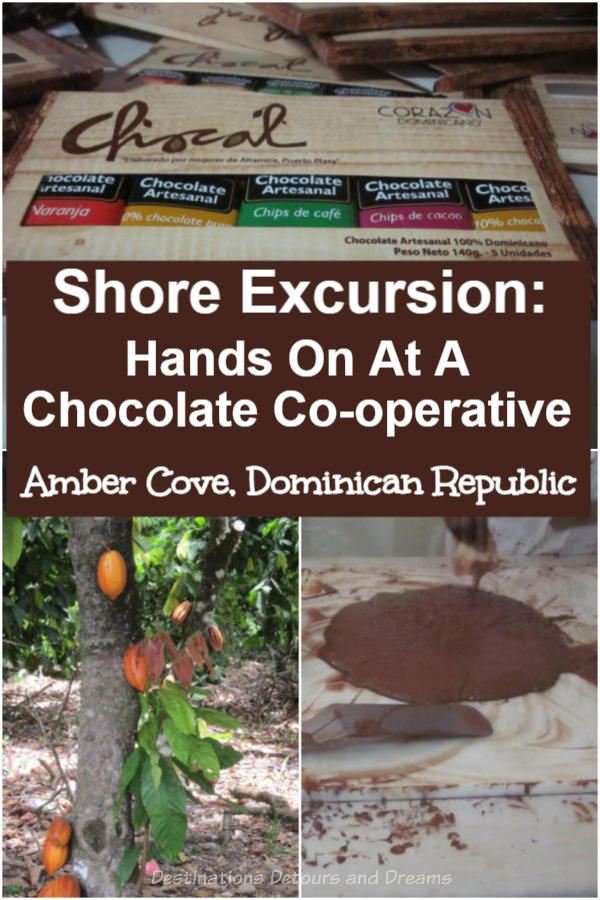 Never miss a story. Sign up for Destinations Detours and Dreams free monthly e-newsletter and receive behind-the-scenes information and sneak peaks ahead.