Discover French-Canadian Culture And History in Winnipeg, Manitoba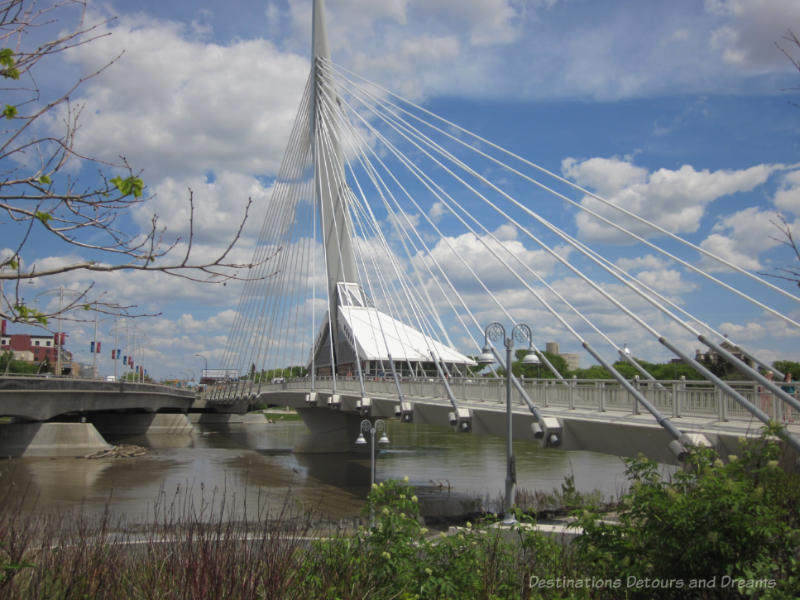 Attractions in the French Quarter of Winnipeg, Manitoba and beyond highlight French-Canadian history and culture
The majority of early European presence in Manitoba was related to the fur trade. The first French speakers to come to what is now the Canadian province of Manitoba were explorers working for the Hudson's Bay Company. In the 1660s Pierre-Esprit Radisson explored the northern territory of Manitoba. In the 1730s explorer Pierre de La Vérendrye and his sons established a more permanent presence in the south. Retired voyageurs, French Canadians who engaged in transporting of furs by canoe, settled on the banks of the Red and Assiniboine Rivers in southern Manitoba.
Today, the core of Manitoba's francophones are descendants of voyageurs or settlers from Québec and Europe. More than half live in the city of Winnipeg. St. Boniface, a neighbourhood known as Winnipeg's French Quarter, is home to the largest francophone community west of the Great Lakes.
A note about the Métis: Many of the voyageurs married First Nations women. Their descendants formed a distinct culture and nationhood. The Métis are a recognized Canadian aboriginal people. Louis Riel, a Métis leader now known as the "father of Manitoba," was born in St. Boniface.
There are several things one can see and do to discover Manitoba's French-Canadian history and current culture.
St. Boniface Walking Tour
St. Boniface Museum
Gabrielle Roy House
Fort Gibraltar
St. Norbert Provincial Heritage Park
French-Canadian Food
French-Canadian Arts And Culture
St. Boniface is located on the east side of the Red River from Winnipeg's downtown area. St. Boniface was founded in 1818 with the establishment of a Catholic mission. It became part of Winnipeg in 1972 when Winnipeg and its surrounding suburbs merged into one city.
Take the pedestrian Esplanade Louis Riel bridge (pictured at the top of this post) to cross the river from the Forks and begin a self-guided walking tour of Winnipeg's French Quarter. Use this map created by Tourisme Riel as your guide. Nineteen points of interest are identified with details and interesting facts about each point included on the map.
Some of the points of interest: Saint Boniface City Hall, a red brick building edged with limestone built in 1906;  Jardin de Sculptures which is a sculpture park beside City Hall; a former post office building constructed in 1909 now containing a coffee shop; the Université de Saint-Boniface, the only French-language university in Manitoba whose roots date to 1871 and has been housed in its current building since 1924; Louis Riel's tomb; the Archbishop's Residence built between 1864 and 1965; and the St. Boniface Cathedral.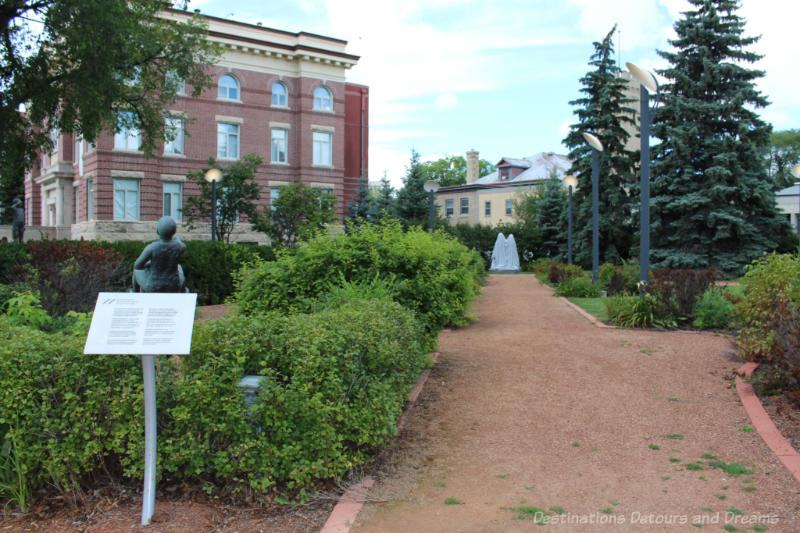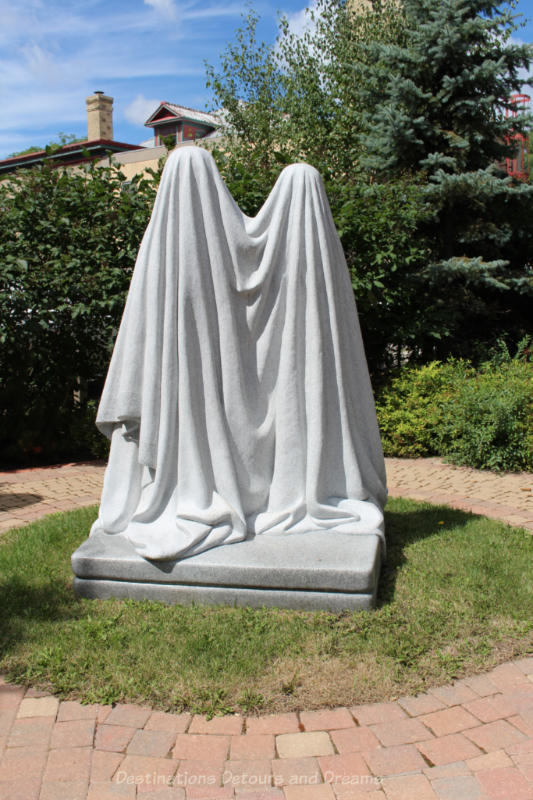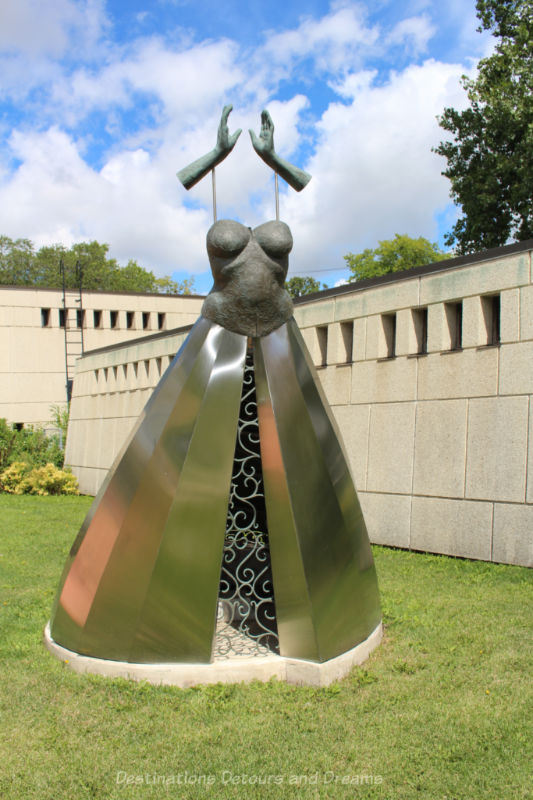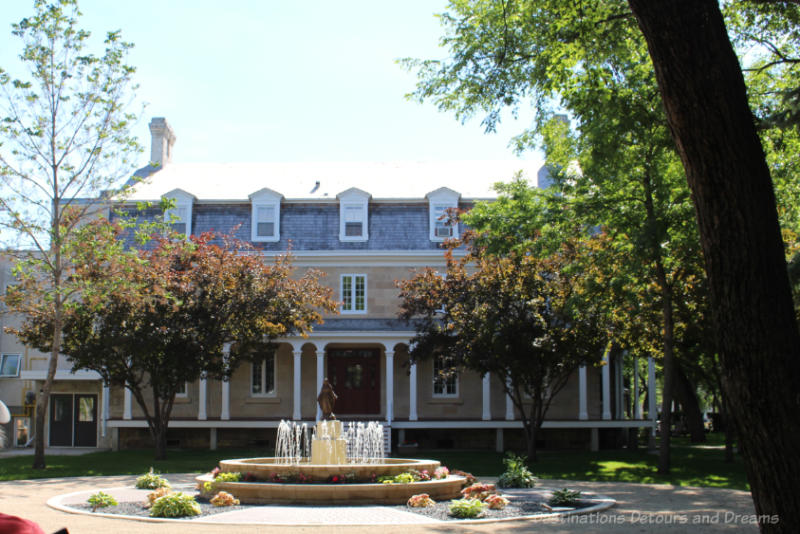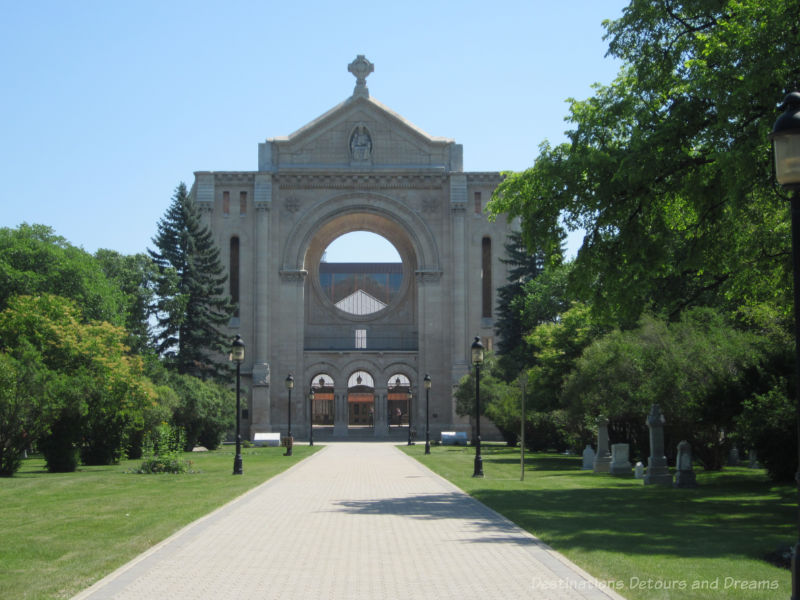 There has been a church on the site of St. Boniface Cathedral since 1818. Over the years, several churches replaced the original church as more space was needed or the buildings were damaged by fire and flood. The fifth church, inaugurated in 1908, was the most elaborate Roman Catholic Cathedral in Western Canada and an excellent example of French Romanesque architecture. Fire gutted the church in 1968 leaving only the stone walls. Today's church, designed by Franco-Manitoba architect Étienne Gaboury, sits behind the old façade.
Two of the points on the tour are museums you can tour, the St. Boniface Museum and Gabrielle Roy House. I've written more about them in the next sections. You may wish to visit as part of your walking tour or make special visits at another time.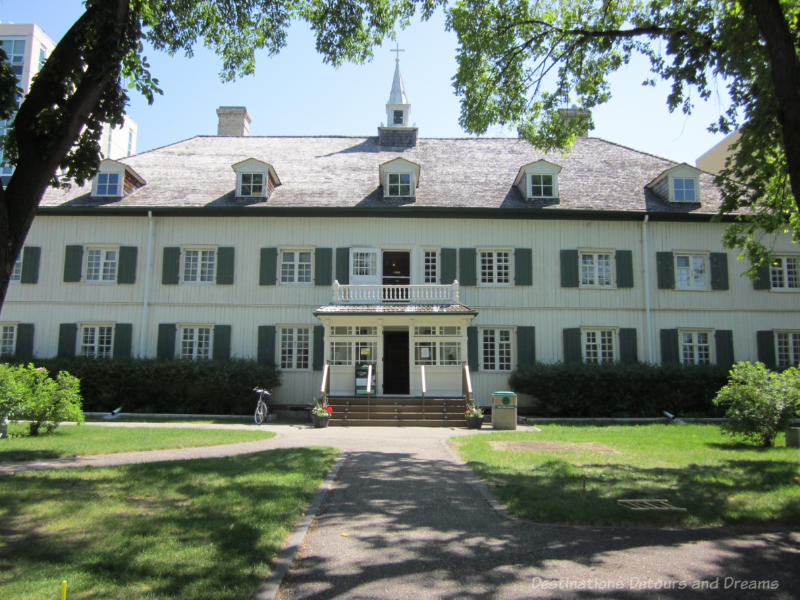 The St. Boniface Museum showcases voyageurs, early French-Canadian life in what was then the Red River Settlement, and the development of the Métis nation. The story of Louis Riel figures prominently in the museum which is housed in a building that is an historic artifact of its own. The former Grey Nuns' convent was built between 1845 and 1851 and is now the oldest remaining structure in Winnipeg and the largest oak log building in North America.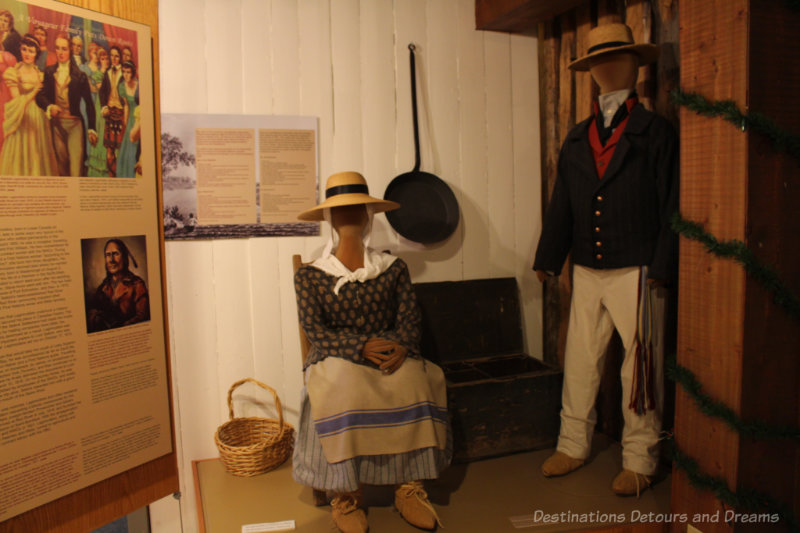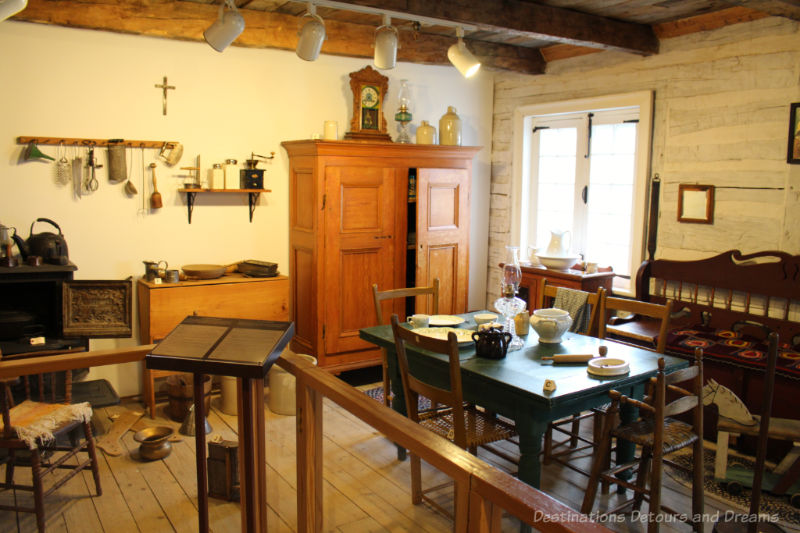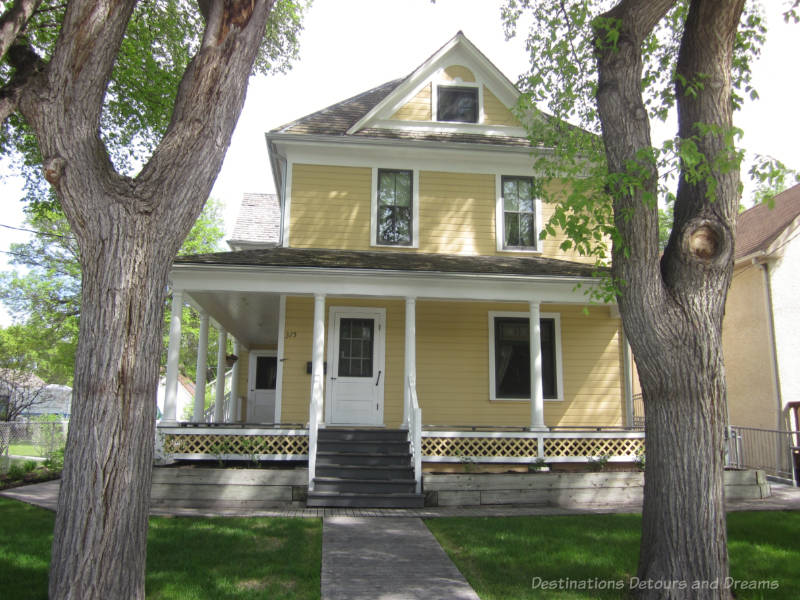 La Maison Gabrielle-Roy provides a look at the life of a middle-class francophone family in the early 1900s. It is the house where renowned author Gabrielle Roy grew up. Gabrielle Roy was the recipient of many prestigious literary awards, including the Governor General's award three times. Her books, written in French, have been translated into many languages. Roy's father, a colonization officer, had the house built in 1905. She was born in 1909, the youngest of 11 children. The rooms in the house museum have been restored to look as they would have during her childhood. The floors are original and the colours authentic. The furnishings are not the original but are true to the period.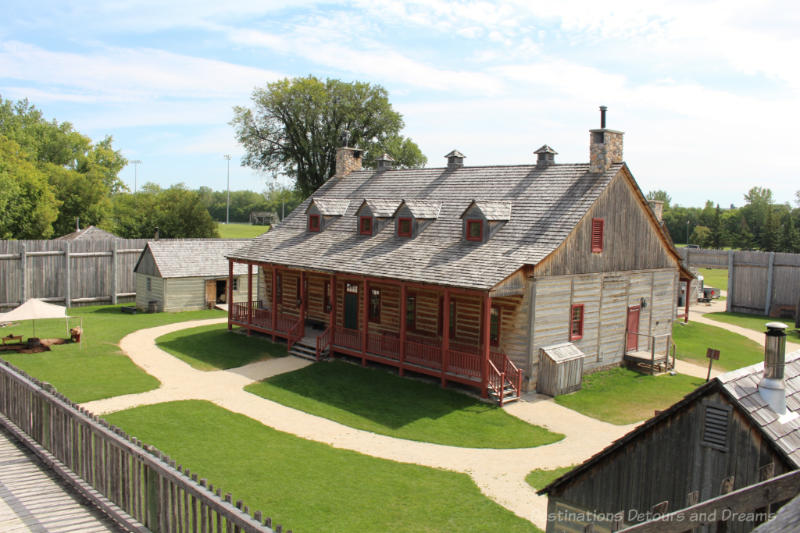 Fort Gibraltar is a replica of a fur trading post built in 1809. The original fort was abandoned in 1835 and destroyed by flood in 1852. The replica, built in 1978, recreates life in the time period 1815 to 1821 through reconstructed buildings and costumed interpreters. It offers visitors a look into the Canadian fur-trading era and the roles of the Métis, settlers, explorers, First Nations peoples, fur trading companies, and the voyageurs. You can see a blacksmith at work, watch the stringing of a snowshoe, and learn about the making of birch bark canoes, pemmican, or beaded works. See fur pelts hanging in the warehouse. Visit the general store. Get a glimpse of voyageur life inside the winter cabin. Fort Gibraltar is open during summer months and for 10 days in February, when it becomes the centre of Festival Du Voyageur.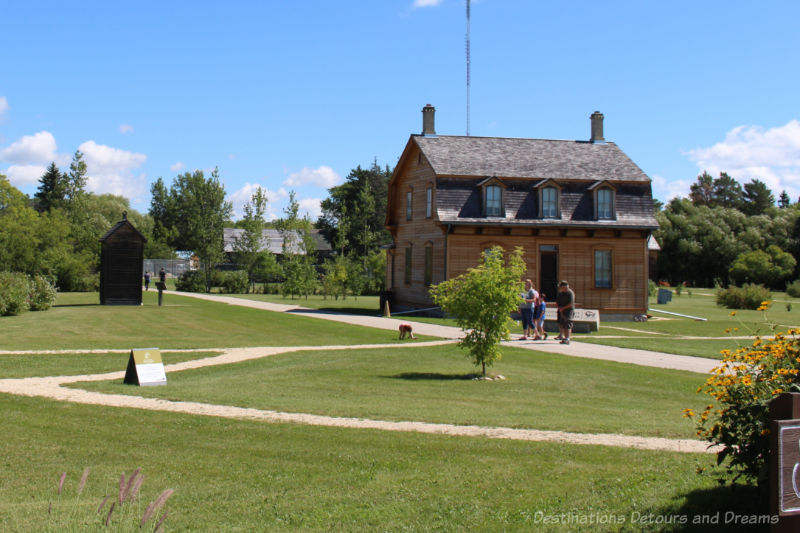 Located just south of Winnipeg, St. Norbert Provincial Heritage Park contains three 19th century log homes illustrating the evolution of the community through Métis settlement and the immigration of Québec families. The interiors of two of the homes have been restored. Guided tours area available in summer months.
Western Canada's largest winter festival takes place every February in St. Boniface. The 10-day Festival du Voyageur celebrates French-Canadian culture and the history of the voyageurs and Métis and First Nations peoples. The centre of the festival is in Whittier Park, where Fort Gibraltar is located, but events also take place at several venues throughout St. Boniface. The festival features snow sculptures, carvings, traditional cuisine, historical interpretations, winter activities, voyageur games, and lots of music. It is an expression of "joie de vivre," a French phrase for exuberant enjoyment of life.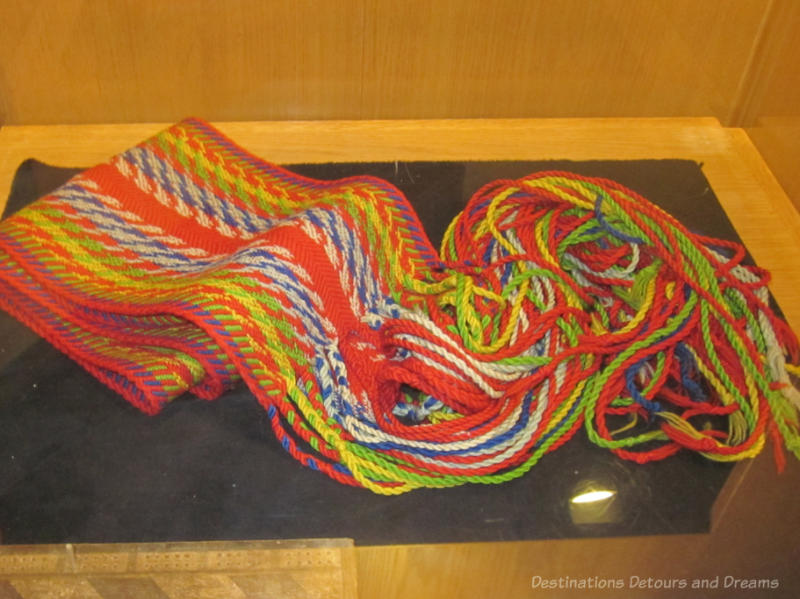 Interpreters at Fort Gibraltar wear traditional garb. An element of the voyageur outfit has become a symbol of the festival and is sported by staff, volunteers, and visitors. The ceinture fléchée, translated as "arrowed sash," was worn by voyageurs around their midsection to carry their belongings. If you don't have one, you'll easily find one to purchase at the Festival. You can also add a red toque (a knit cap known as a beanie hat in other parts of the world) and some plaid flannel to your attire.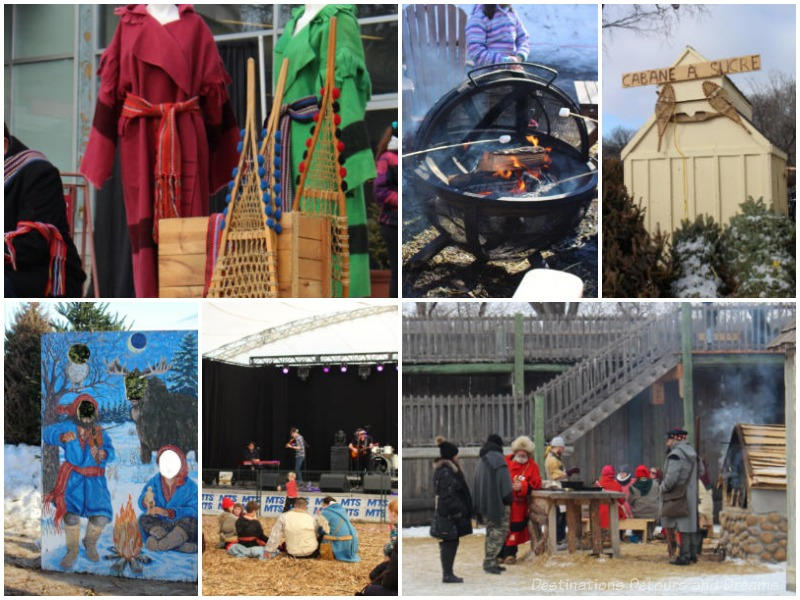 The three most well-known staples of French-Canadian fare are French Canadian pea soup, tourtière which is a savoury meat pie, and sugar pie. You'll find all three at Festival du Voyageur as well as maple snow taffy, a sugary candy made by boiling maple syrup and pouring it on cold snow which causes it to thicken quickly.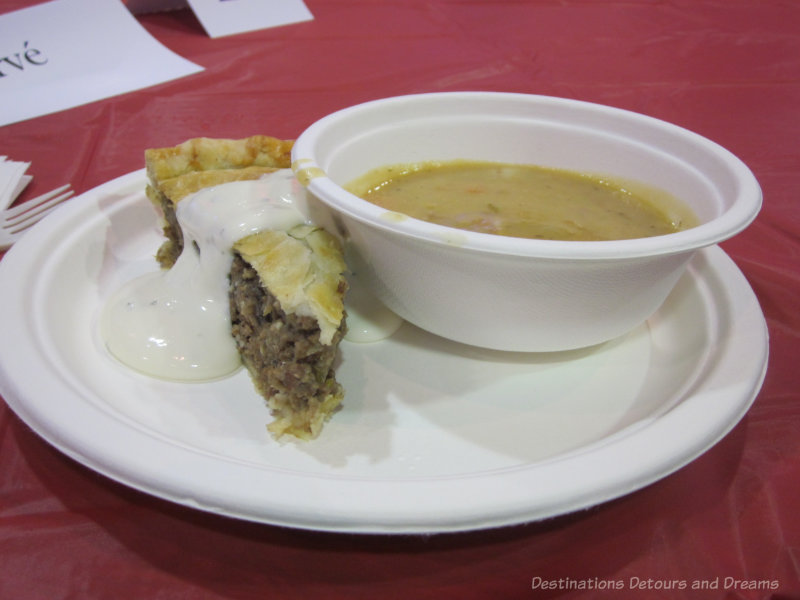 At non-Festival times of the year, you'll find tourtière at several restaurants in St. Boniface, including Le Garage Restaurant and Bar, and Resto Gare. The Resto Gare menu includes a variety of traditional European French dishes. Resto Gare is located in a 1913 St. Boniface Train Station with an attached train car as part of the restaurant.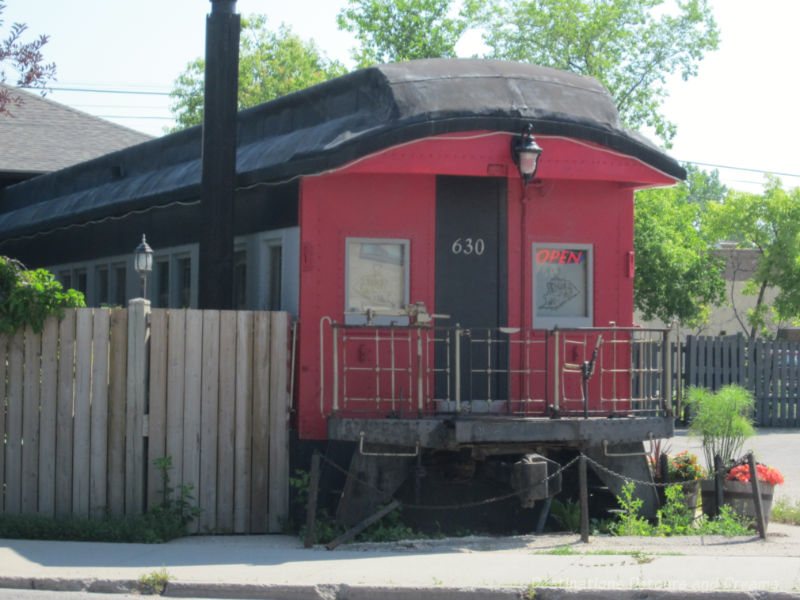 Poutine, a French-Canadian dish from Québec consisting of French fries and cheese curds topped with a brown gravy, can be found at these restaurants and many other restaurants in St. Boniface and throughout Winnipeg. These days you'll find many chefs adding additional toppings to the traditional French fries, cheese curds, and gravy. Promenade Café and Wine offers a version of poutine topped with tourtière meat.
Caribou, a fortified wine drink made with red wine, whiskey, and maple syrup, is the unofficial drink of Festival du Voyageur. Its origins go back to hunter and trappers who drank Caribou to counter the cold winter weather. Popular folklore says the drink was originally a mixture of caribou blood and alcohol, but that is up for debate. It may be simply that the fortified wine looked like caribou blood. You'll find Caribou Sangria on the menu at Le Garage Restaurant and Bar.
The Franco-Manitoban Cultural Center (CCFM), located in the heart of St. Boniface, offers performing arts and visual arts programs as well as educational programs. Its building includes several performance spaces and houses a number of cultural, historical, and musical organizations. Le Cercle Molière, one of those organizations, is the oldest theater troupe in Canada. Le Cercle Molière puts on 5 shows a year, some of which have English subtitles. The CCFM Gallery, located within the Cultural Center, stages free art exhibitions.
Never miss a story. Sign up for Destinations Detours and Dreams free monthly e-newsletter and receive behind-the-scenes information and sneak peeks ahead.
PIN IT