Hotel Review: The Malcolm In Canmore, Alberta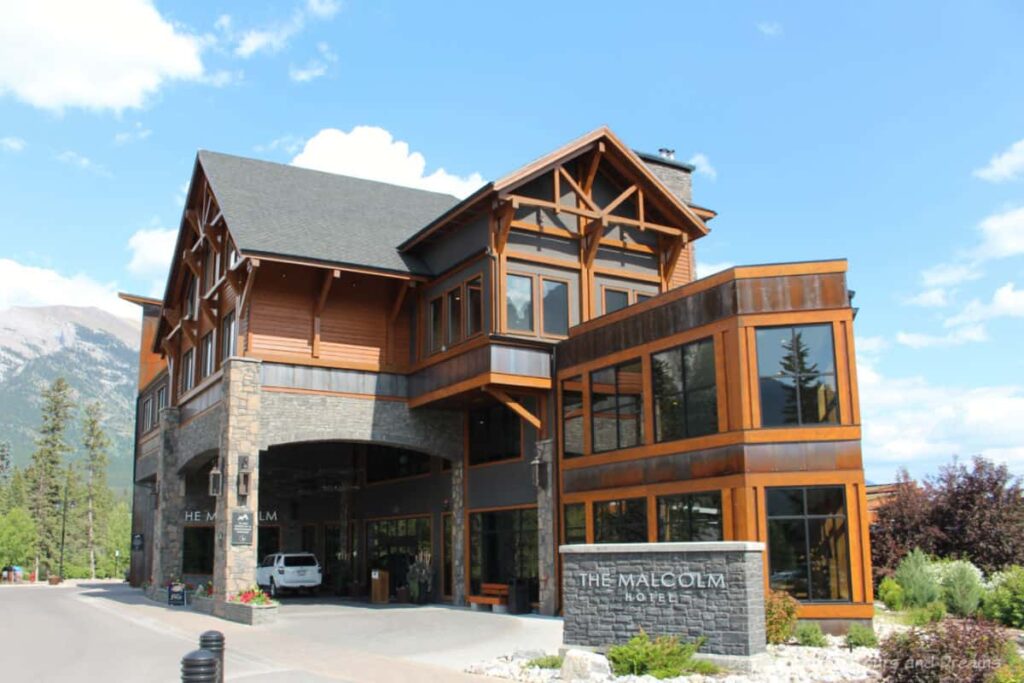 The Malcolm Hotel in Canmore, Alberta, Canada is a luxury hotel with a casual, welcoming atmosphere in a scenic setting
The Malcolm Hotel is a luxury hotel located in the heart of Canmore, Alberta, Canada. My husband and I stayed at the hotel for a few days while attending a family wedding. It turned out to be lovely place to stay.
The Room
I will start with talking about the most important part of an hotel, the room.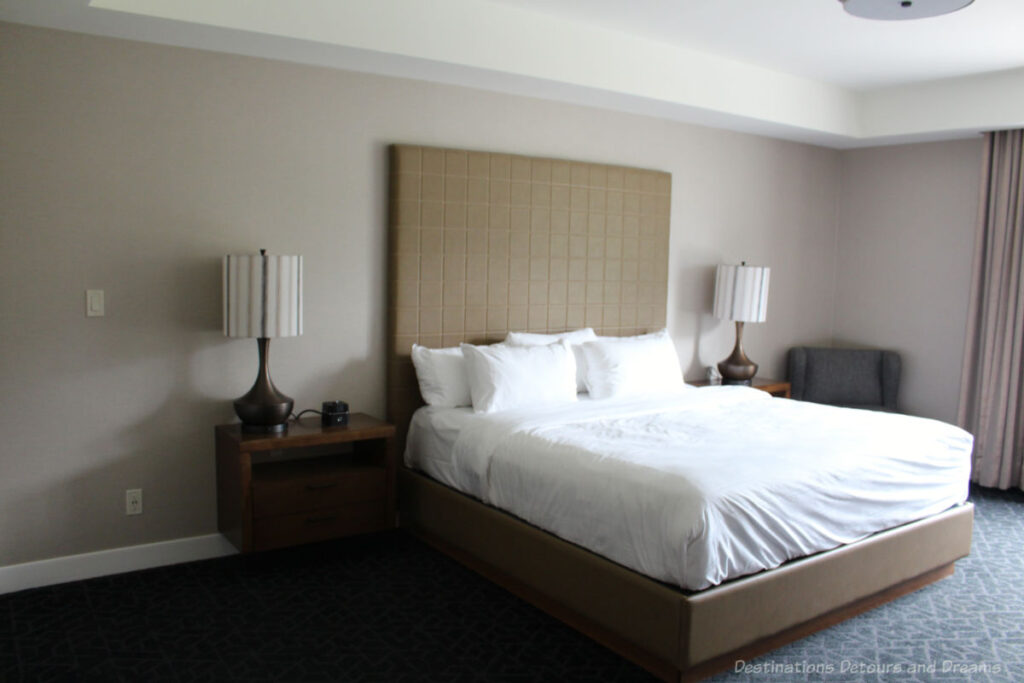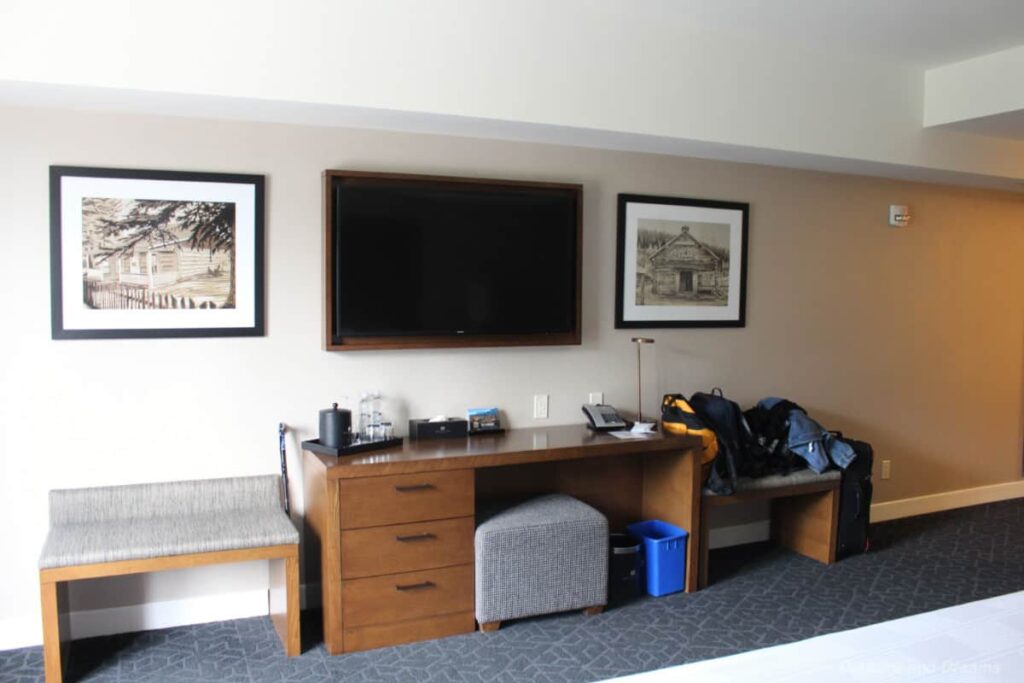 As you can see from the photos, our room was spacious. We had booked an accessible room to make things easier for my husband who has limited mobility and needs the use of a walker/rollator to get around. The bed was comfortable. The bathroom and shower set-up worked well for us.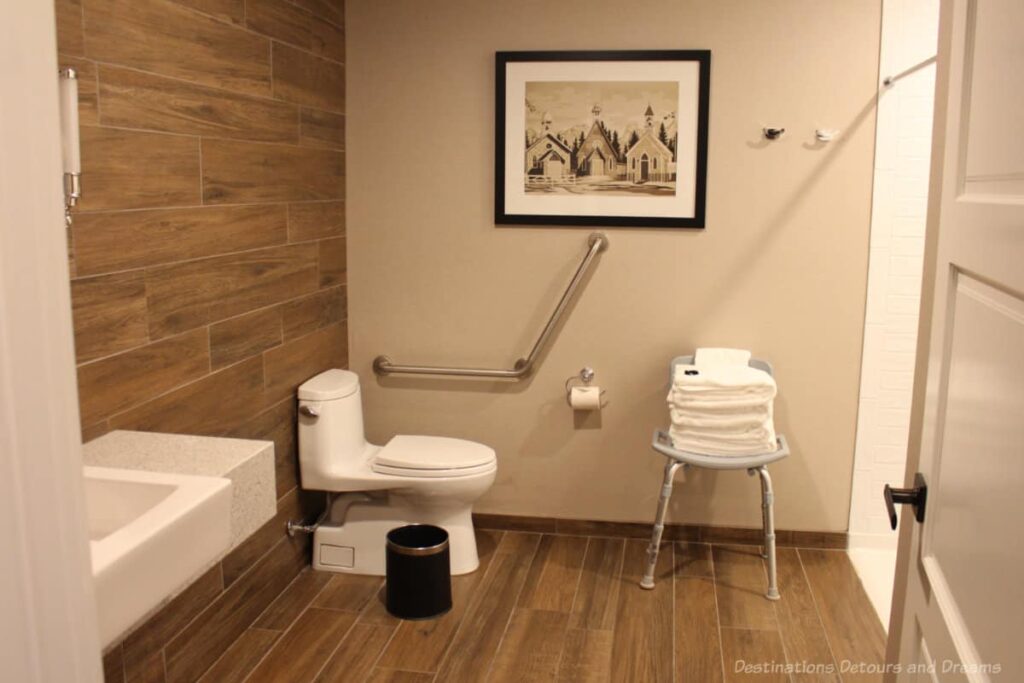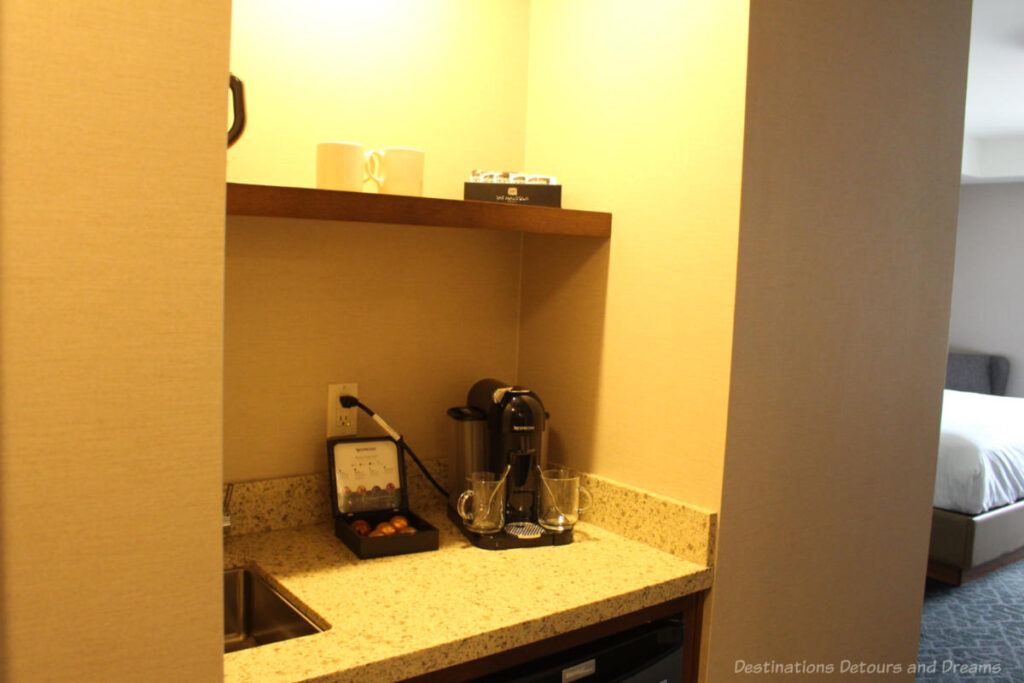 In order to have power in the room for lights, etc. you had to insert your room card key into a wall slot just inside the door. This ensures no devices are left on when the room is not in use and provides energy savings to the hotel. It also meant I always knew where in the room I'd left my card key.
There were only two things I would have changed about the room. The "chair" provided at the desk was an ottoman-like stool with no back. I've come across this in other hotels, but I much prefer a chair with a back. Fortunately, it didn't turn out to be much of an inconvenience for me this time simply because I spent very little time at the desk. The other thing is something that is the case in most hotel rooms. There was only one arm chair. That meant that either I or my husband could sit and relax, but not both of us. The other needed to use the bed. (This is a common beef of mine with hotel rooms in general.)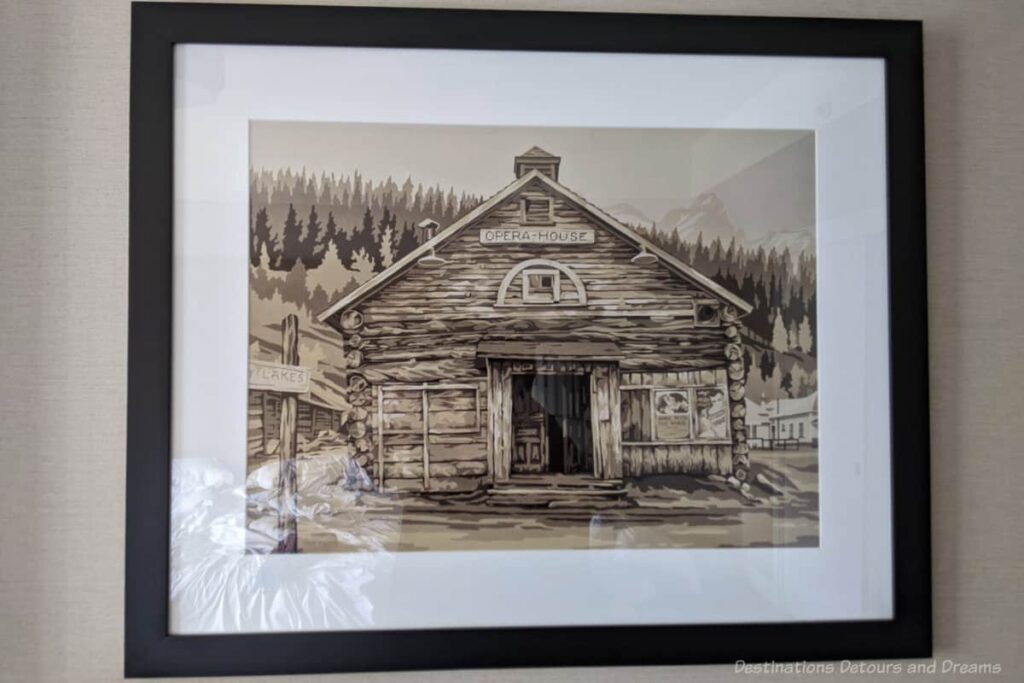 Pictures on the wall featured historical Canmore sites. I like when hotels do that.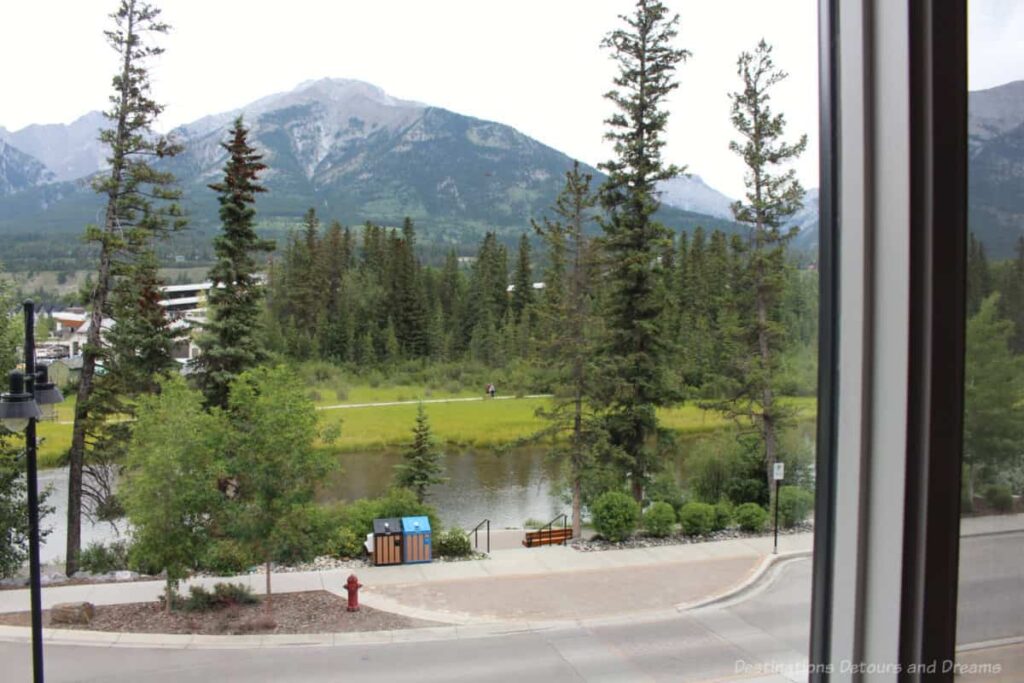 Dining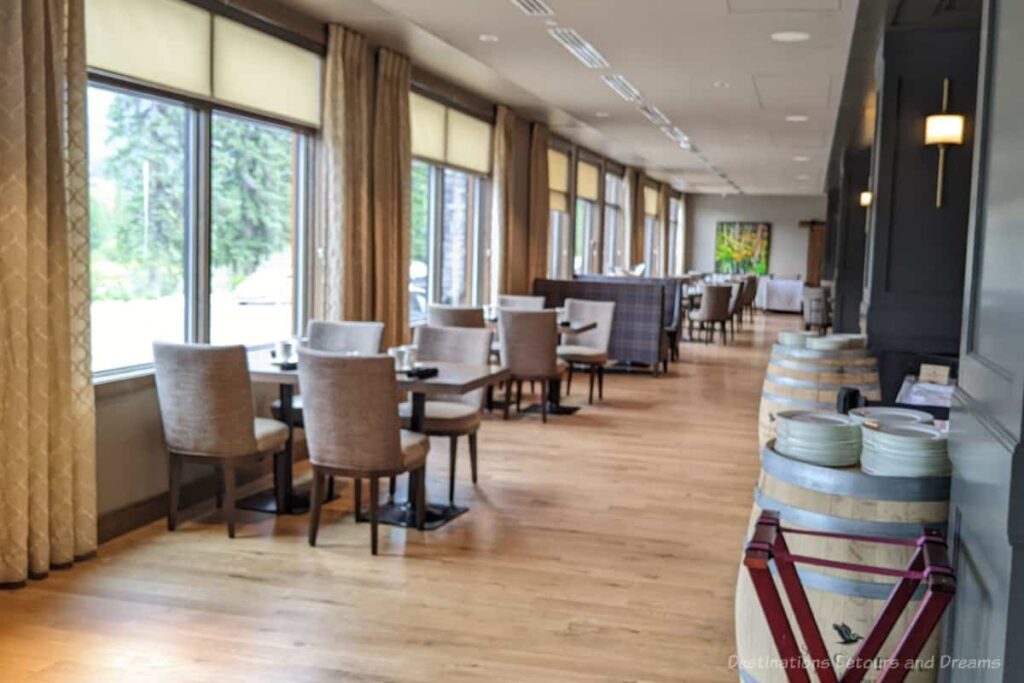 The Stirling Dining Room and Lounge lunch and dinner menu features Alberta local ingredients. The menu offers something for everyone with soups and salads, small bites, medium bites, large bites, handhelds, and grill items. Our group of four each ordered something different and we all enjoyed our meals. The Stirling breakfast menu contains a variety of items, but we choose the breakfast buffet, which had a lot to choose from, including freshly made omelettes, and was very good. Note that I have no photos of our meals because I was too focused on the food to remember to snap a picture.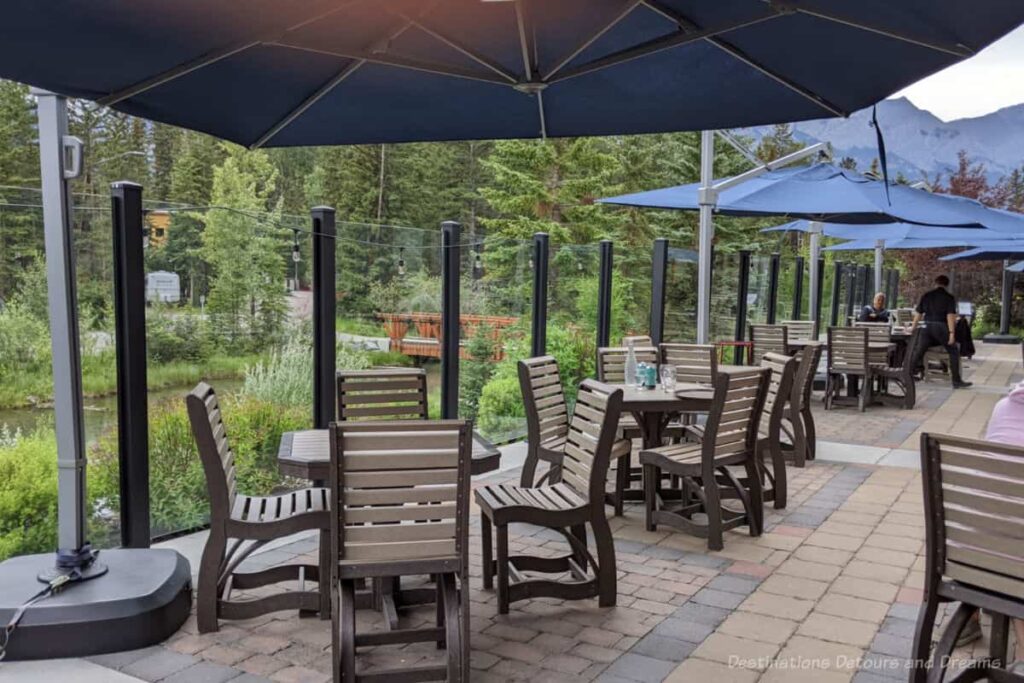 The Creekside Patio is open in summer months from 11:30 am to 9 pm, weather permitting. The Pulse Coffee Bar inside the Pulse General Store off the hotel lobby is open from 7 am to 6 pm. I didn't sample anything from either during this stay.
Amenities
The hotel has a fitness centre (which I didn't use during my short stay) and a rooftop firepit area. The outdoor pool on the second level has amazing views of the Three Sisters Mountain range.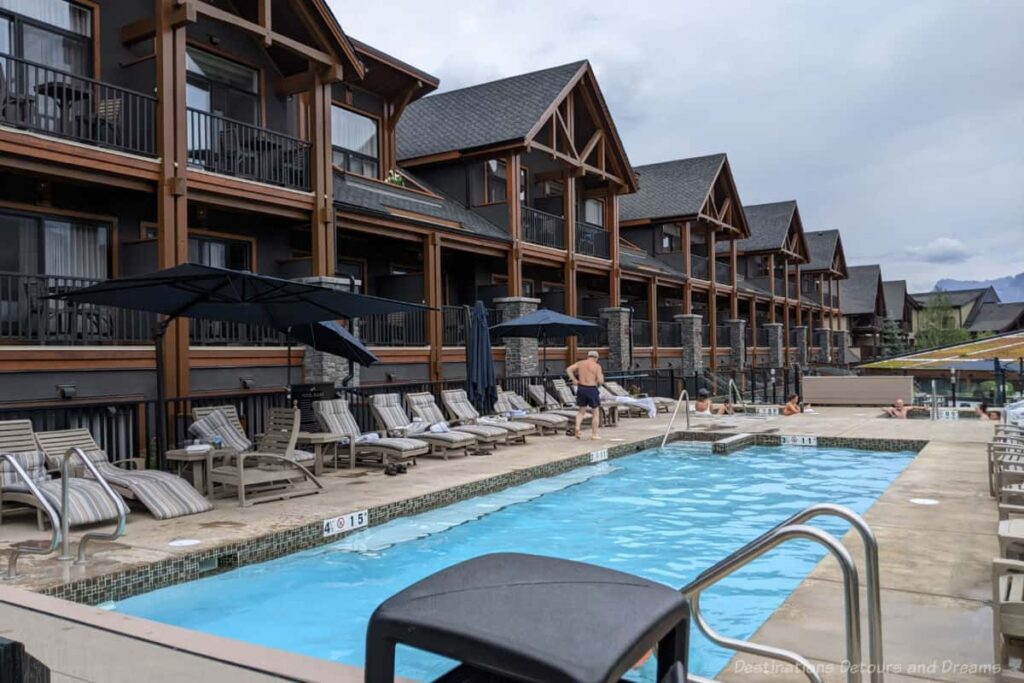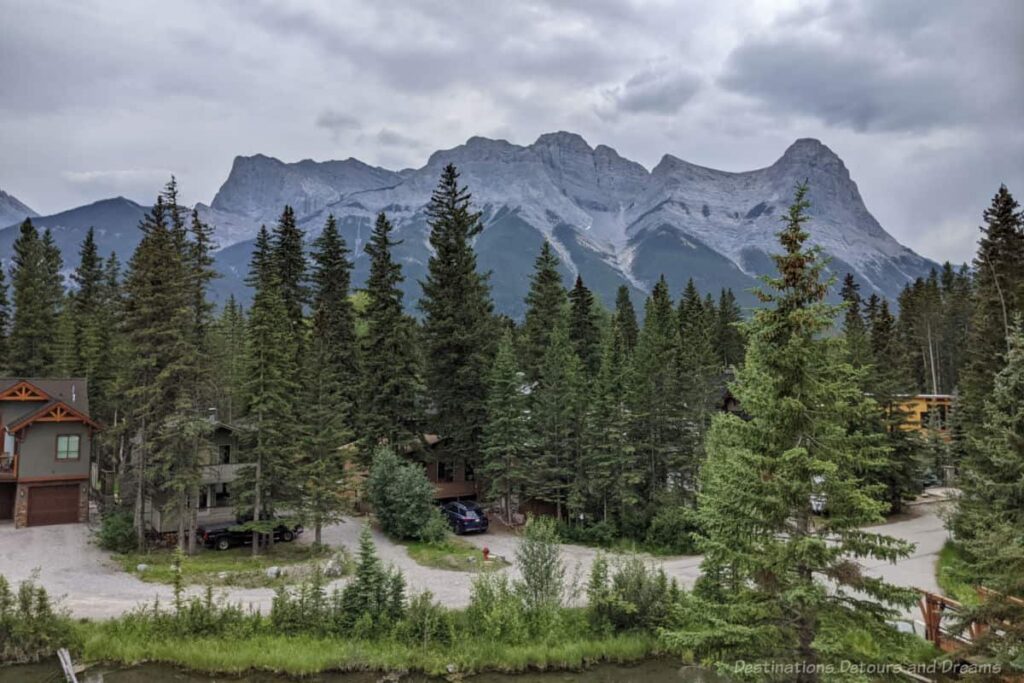 A game lounge on the second level features a pool table, foosball, a poker table, and a selection of books and board games. The space, which overlooks the main lobby, contains chairs and tables for playing games or visiting.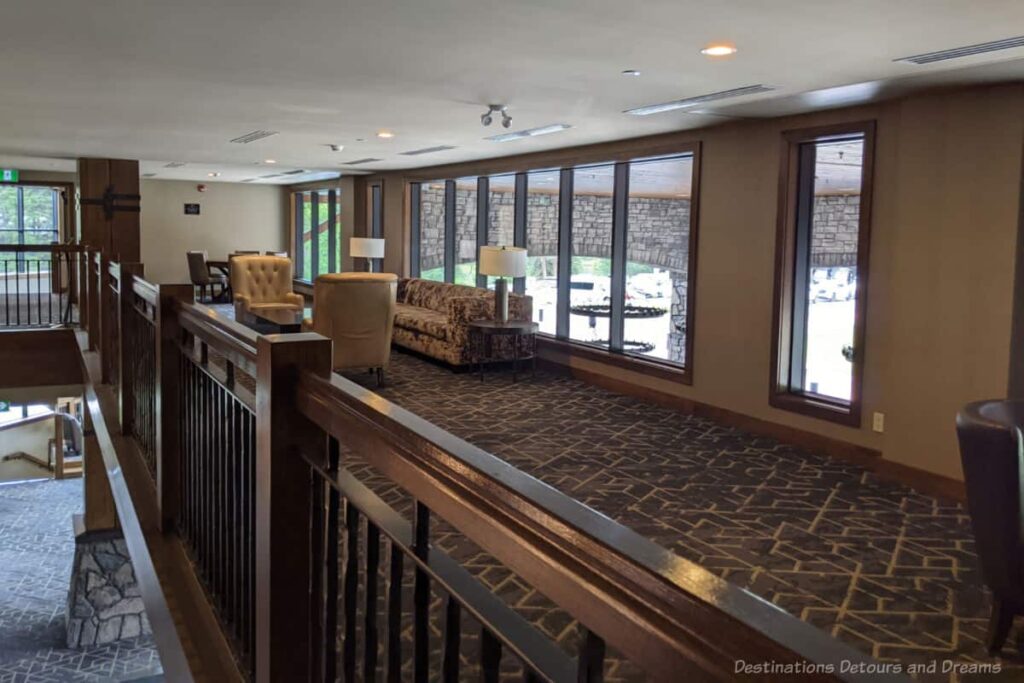 Vending machines with drinks and snacks as well as an ice machine are located at the beginning of the hallways leading to the rooms. The Concierge desk is located in the Grand Lobby on the main level and is open from 9 am to 9 pm daily.
Underground parking is available. The entrance/exit is off a lane so some caution is required when entering or exiting, but the lane rarely had other traffic. Although there are not as many underground spots as rooms, I was always able to find a spot there. There is also an outdoor side lot and street parking.
Staff were pleasant and willing to help. I appreciated being able to have someone bring our bags up to the room and take them down again at the end of our stay.
Accessibility
Accessible rooms are available, but over the last couple of years as we've learnt to live with my husband's decreased mobility and strength, we've come to realize that good accessibility means more than an accessible room.
Our accessible room was located near the elevator and worked well for us. However, the door into the room was very heavy and difficult for my husband to open on his own while holding on to his walker. Leaving the room was easier as the door slowly closed behind him on its own. There was also a very slight lip at the doorway entrance to be careful of.
The rest of the hotel was easily accessible for him with elevators and flat surfaces. The distance to the restaurant was manageable.
Note that there are a few steps to get to the outdoor pool area on the second level. There is an open lift beside those stairs. To use the lift, you need to contact hotel staff to come with a key.
There are two wide handicapped parking stalls in underground parking beside the entrance to the elevator. We used one for the first part of our stay, but found both of them in use after that. My husband was able to walk a little further from another spot. However, most of those other spots might be too narrow to manage with a wheelchair. A few times, I simply dropped my husband off at the front hotel entrance and subsequently parked the car on my own.
Location
It's hard to beat the hotel's location. Located in the Spring Creek neighbourhood bordered by two spring-fed streams, it is about a five-minute walk into the townsite. There are walkways and bicycle paths alongside both creeks. And the mountain views are spectacular. But then again, views throughout Canmore are wonderful.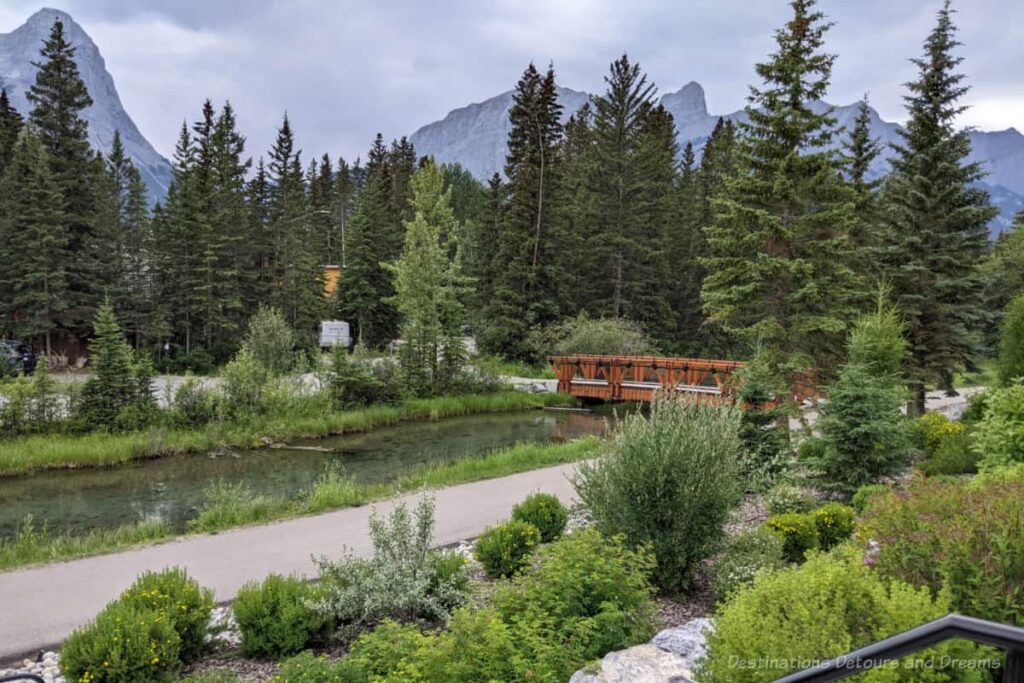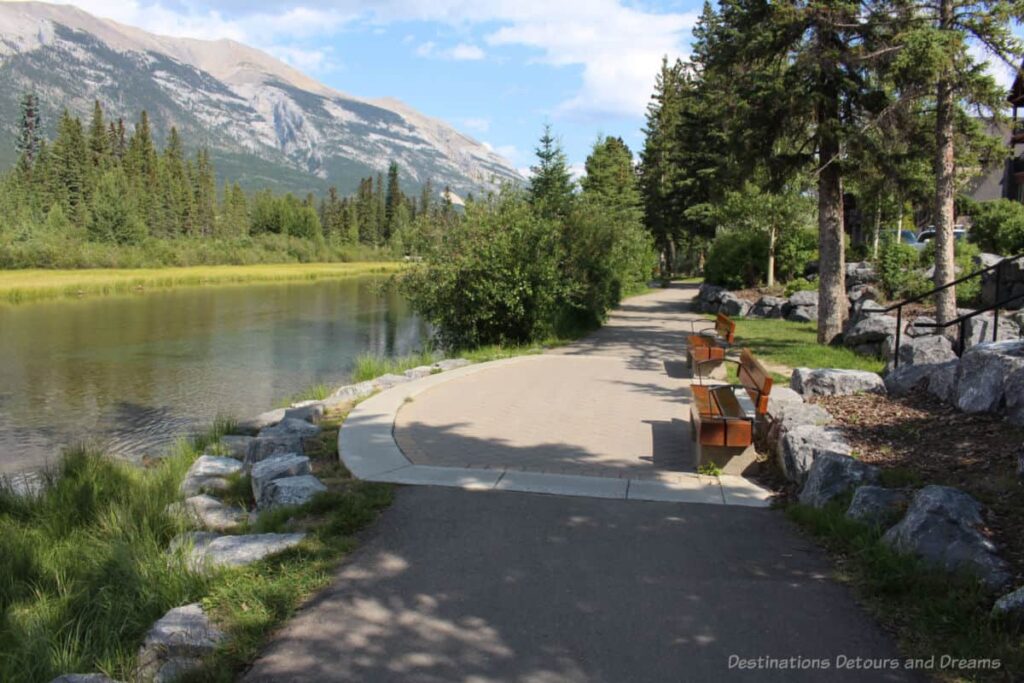 Verdict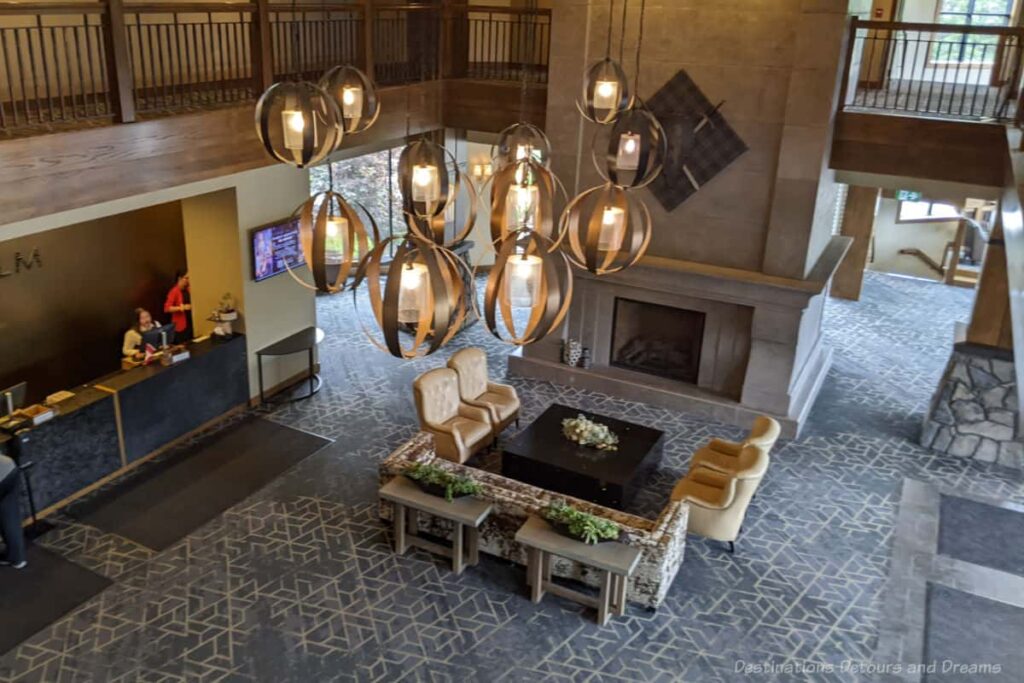 The Malcolm Hotel provides a luxury hotel experience with a casual, welcoming atmosphere. It is an expensive place to stay (even by Canmore standards, which are generally high). However, I think it was worth it.
Never miss a story. Sign up for Destinations Detours and Dreams free monthly e-newsletter and receive behind-the-scenes information and sneak peeks ahead.
PIN IT