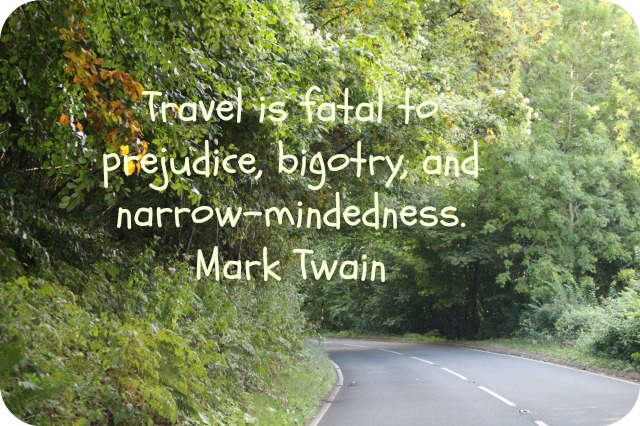 Is travel really fatal to prejudice?
There is a Mark Twain quote often recited by people who love to travel.
Travel is fatal to prejudice, bigotry, and narrow-mindedness, and many of our people need it sorely on these accounts. Broad, wholesome, charitable views of men and things cannot be acquired by vegetating in one little corner of the earth all one's lifetime.
I've come across this quote several times recently and have been pondering how true it is or isn't.
Prejudice is often the result of fear raised by the unfamiliar. When we travel, we get to know the unfamiliar and it becomes less strange and fearsome. We meet people we thought were vastly different than us and discover how much common ground we have, how alike we are in our humanity.
The more I traveled the more I realized that fear makes strangers of people who should be friends. ∼Shirley MacLaine
We also encounter different ways of living and doing things. Not necessarily better or worse, just different. And we learn there is more than one way to see and be in this world. To the extent this removes fear and opens our hearts and minds, travel can indeed be fatal to prejudice, bigotry, and narrow-mindedness.
However, I don't think this is always the case. People can travel the world and marvel at natural and man-made wonders and still see only what they want or expect to see. It is possible to travel widely and not look beyond the tourist attractions into the hearts and lives of the lands and their peoples. We can carry our preconceptions with us and shape what we see to fit that view.
If you reject the food, ignore the customs, fear the religion, and avoid the people, you might better stay at home. ∼James Michener
I definitely disagree with the last part of Mark Twain's statement about being unable to acquire board, charitable views by staying in one corner of the earth. While the physical world of those who choose not to travel or are unable to travel because of health, financial considerations, or responsibilities may be narrower than those who do travel, that doesn't necessarily translate to a narrow mind. One can still view the world with openness, compassion, and acceptance. And what on the outside may seem like narrow confines may be a broad, wide world, especially for those who read and travel to faraway places and distant times and into the hearts of thousands of souls through the pages of a book.
Mark Twain lived in a world without Internet. Whether his statement is more or less relevant in that world I cannot say. The Internet opens up the world to us and allows us to find out about places, people, and ideas without leaving our corner, but it also allows us to spread our fears and fallacies. It allows us to stay connected to home when we travel. While this can be comforting and grounding, I wonder if it also prevents us from fulling experiencing the lands and cultures we travel to.
I think it all comes down, once again, to attitude. And that may be where the connection with travel comes in. People with a curiosity about the world and interest in its people and cultures may be more likely to travel. Sometimes a travel experience can spawn that interest and lead to a desire for further travel.
Travel is more than seeing the sights; it is a change that goes on, deep and personal, in the ideas of living. ∼Mary Ritter Beard
I don't want to imply there is anything wrong with simply seeing the sights. There are many ways of traveling and seeing the world, each with its own merit and value. Travel does have the potential to open our minds and reduce prejudice. But I don't think that happens in all cases. And I don't think one has to travel to develop an open mind. What do you think?