Ten Things To Do In Fairbanks, Alaska, In Summer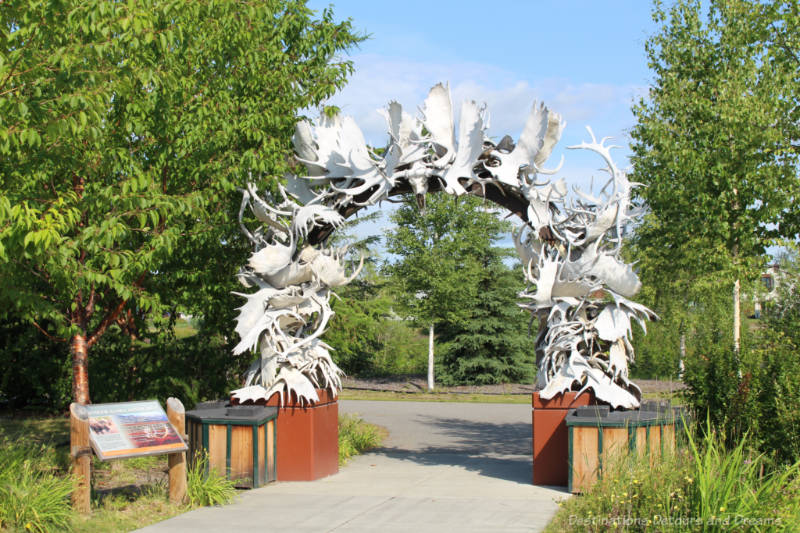 Top things to see and do in Fairbanks, Alaska, in the summer
Now known as the "Golden Heart of Alaska," Fairbanks was originally a gold rush boomtown. The city has a charming downtown with the feel of a small town, a thriving arts community, a rich Alaska Native culture, and an easy-going vibe. It is a modern city with a quirky, pioneering spirit. In spite of its northern latitude of 65 degrees, Fairbanks has warm summers. With the Midnight Sun Season running from late April to late August, you'll have plenty of daylight hours to take in all there is for the visitor to experience.
One of the things that struck me about Fairbanks was the fresh, clean scent of the air. Fairbanks is located in the Tanana Valley in the interior of Alaska. The 100-mile-long Chena River runs through the city and is a focal point for activities. Views of mountain ranges to the north and to the south are visible in certain spots.
Mere minutes outside of the city, you'll find yourself surrounded by pristine wilderness with forests containing spruce, aspen, poplar, larch, and birch trees. The birch tree is a frequent symbol used in Fairbanks design, as is the aurora borealis otherwise known as the northern lights. The aurora borealis phenomenon draws people to Fairbanks in winter, but you won't see it during the summer. It never gets dark enough.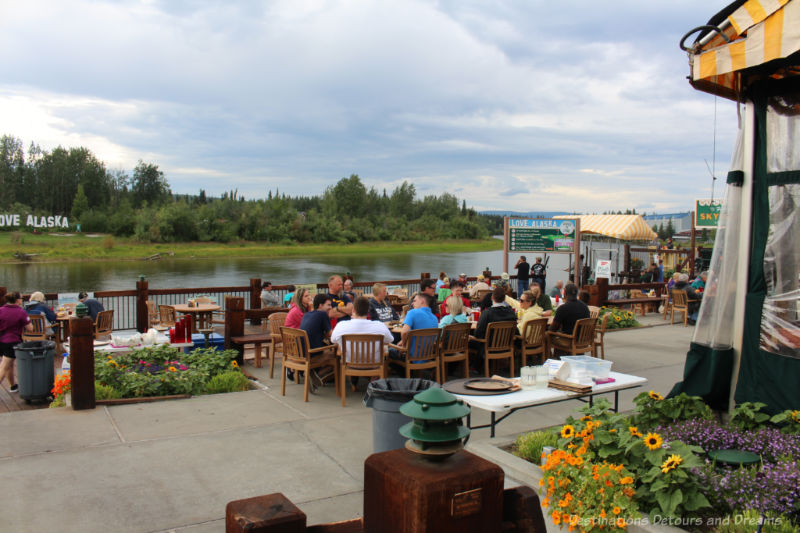 Fairbanks is the second most populous city in Alaska (after Anchorage) with a population of around 32,000 in the city itself and 100,000 in the borough. Fairbanks is the unofficial end of the Alaska Highway and a popular destination for folks driving that Highway. The Alaska Highway starts in Dawson Creek, British Columbia, Canada, and officially ends in Delta, Alaska, 95 miles southeast of Fairbanks. Although not a stop on Alaska cruises because of its interior location, many cruise passengers opt to tack on a visit to Fairbanks before or after their cruise. Fairbanks is a little over a six-hour drive from Anchorage. Fairbanks is also an excellent stand-alone destination with several flights into the city.
You can read more about things I noticed about Fairbanks when I visited in the post Impressions of Fairbanks, Alaska. The remainder of this post contains my recommendations for the top ten things to do in Fairbanks along with a couple of bonus ideas.
1. Museum of the North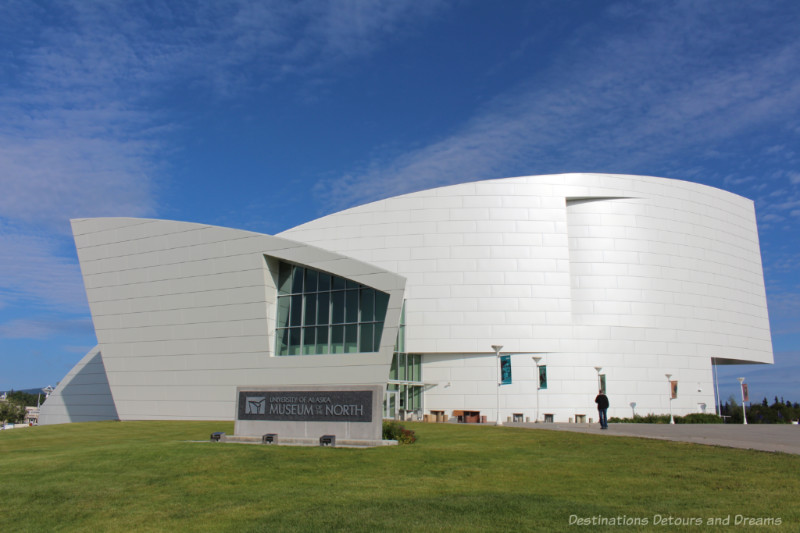 The Museum of the North is located on the Fairbanks campus of the University of Alaska. The innovative lines, curves, and angles of the large white building reflect the lines and shapes of Alaska's coastlines, mountains, and glaciers. Inside exhibits about the major ecological regions of Alaska depict its geography, diverse wildlife, human history, and culture. Prehistoric artwork, samples of ores and minerals, potlatch ceremony regalia, traditional basketry, Russian Orthodox church artifacts, wildlife dioramas, a pipeline model, and an aurora borealis display are just a sample of what you'll find in the Arctic Gallery.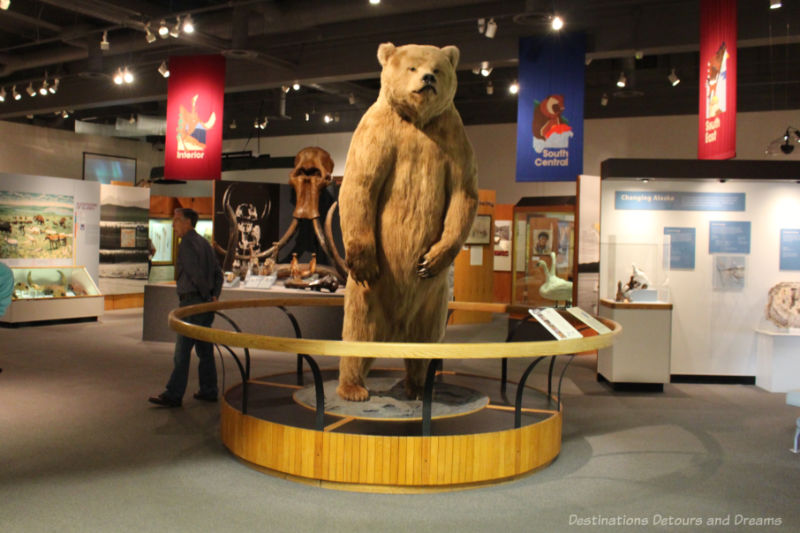 On the second floor, the Rose Berry Art Gallery contains an excellent and varied selection of Alaskan art, from ancient carvings to more contemporary pieces.
The Museum of the North was the first thing I visited in Fairbanks. What I learned there provided great context to better appreciate what I saw during the rest of my visit. Whether you visit the museum near the beginning or near the end of your visit, it will add more meaning to your trip as well as provide a pleasant way to spend two or three hours. Read more about my own visit to the museum here.
2. Downtown Fairbanks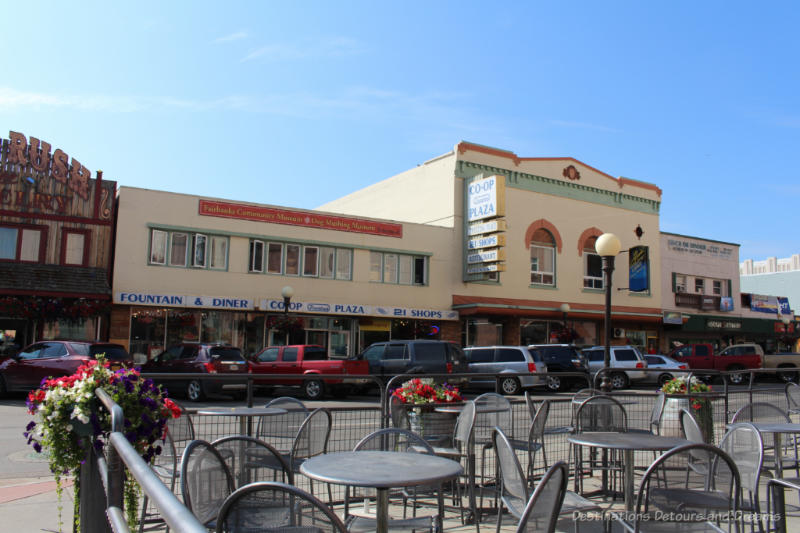 A mix of the old and the new greets you in walkable downtown Fairbanks. The downtown area epitomizes the feeling of history mingling with the present that stayed with me throughout my stay in Fairbanks. Fairbanks is a city of the present. I did not feel as if I'd stepped into the past, and yet, its history always seemed alive and present. In its downtown, historic buildings from the gold rush days sit alongside art deco structures and modern glass and steel buildings. Inside the buildings you'll find coffee shops, restaurants, art galleries, and independent shops selling gifts, crafts, jewelry, and Alaskan-made products. As you walk through the downtown area, you'll see murals, painted steam vents, and public artworks.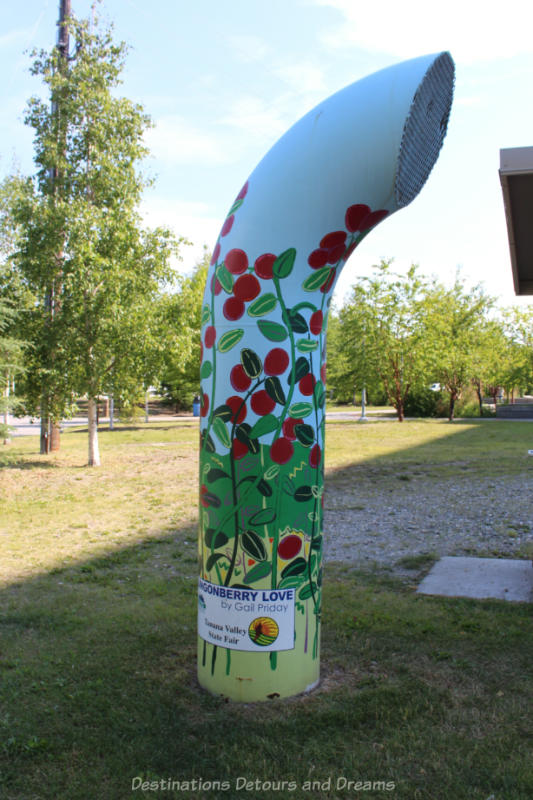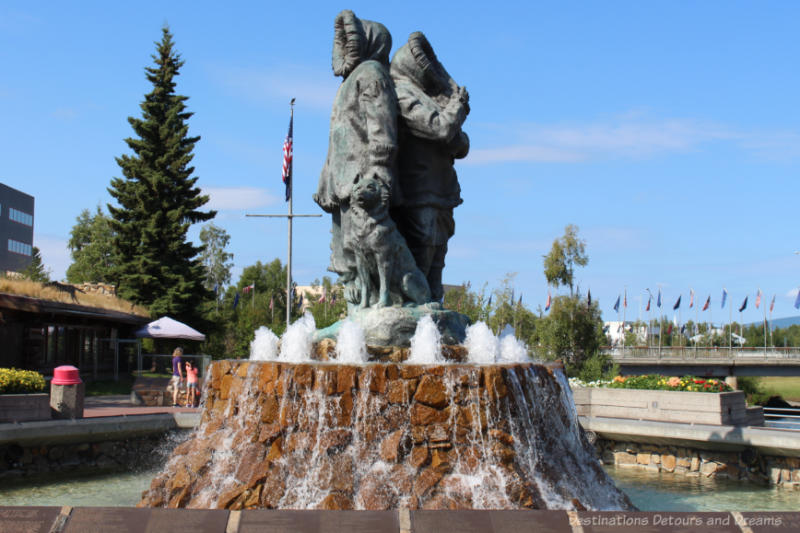 The Golden Heart Plaza is a downtown, riverfront community gathering spot. The Unknown First Family statue by Malcolm Alexander stands at its centre. It is "a monument to the unwavering spirit of the families, past, present, and future, who endure in this great land with pride and dignity."
The 2.5 mile paved Chena Riverwalk extends in either direction from the plaza. The Riverwalk connects to a series of parks and is dotted with historical monuments, informative signs, and artwork. At the eastern end of the walk, you'll find the Interior Alaska Antler Arch pictured at the top of this post. More than 100 moose and caribou antlers collected from all over Interior Alaska make up the arch.
3. Morris Thompson Cultural and Visitors Center
The Fairbanks Visitor Information is the place to go to find out information about services and activities within the Fairbanks area, but that is not the only reason to visit the Morris Thompson Cultural and Visitors Center. Free exhibits take you through the seasons of the Interior. Displays include artwork and objects about the cultural and economic history of Alaska. Check out the schedule of events to find lecture or cultural presentations of interest. I attended a fascinating performance of native youth demonstrating traditional song and dance that was interesting and informative.
4. Pioneer Park Gold Rush Town
Many of Fairbanks's early cabins and buildings, dating to the early 1900s, have been moved from their original locations to Pioneer Park where they have been placed on a series of pedestrian streets to recreate a Gold Rush Town. Signage identifies where the buildings came from and when they were built. Inside the buildings, you'll find concessions, modern-day gift shops, and museums.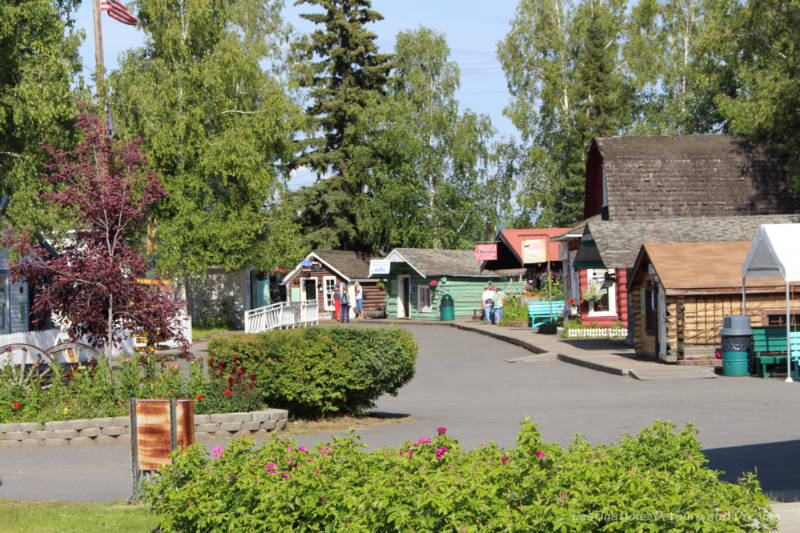 Pioneer Park is open seven days a week. Admission to the park is free, but there are small entrance charges for most museums. Read my post A Taste of Interior Alaska History at Pioneer Park in Fairbanks for more information on Pioneer Park attractions including Gold Rush Town, the Salmon Bake, and the Golden Heart Revue.
5. Salmon Bake and Golden Heart Revue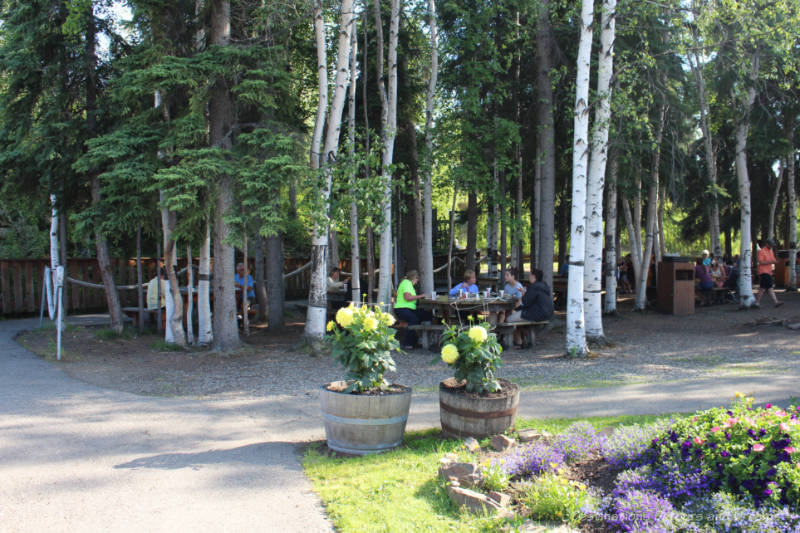 At the other end of Pioneer Park from Gold Rush Town, picnic tables under the shade of birch trees provide a lovely setting for the evening Salmon Bake feast. All-you-care-to-eat wood-grilled salmon, beer battered halibut, fried chicken, and slow roasted prime rib with accompaniments of potatoes, baked beans, sourdough rolls, and assorted salads are served buffet style.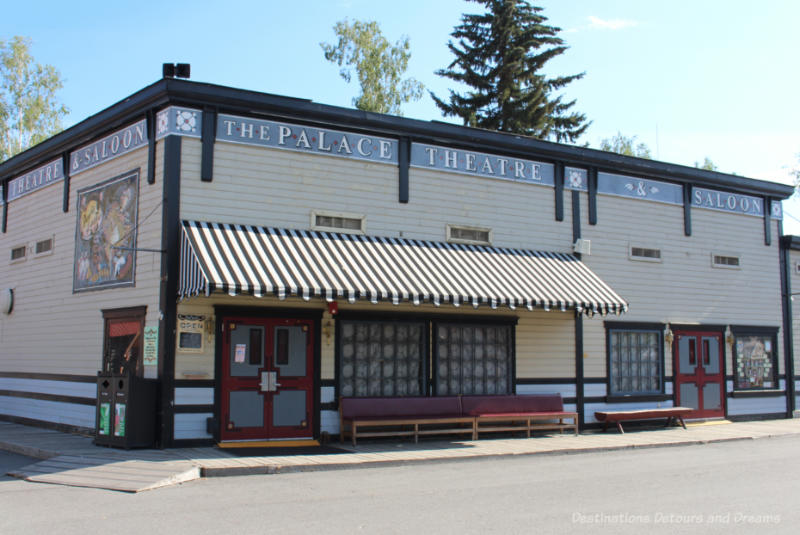 After dinner, you can take in the Golden Heart Revue show in the Palace Theatre in Gold Rush Town. The Golden Revue is a Vaudeville-style musical comedy covering highlights of Fairbanks history and providing a humorous look at life in the north.
Dinner is served nightly in Pioneer Park from 5 pm to 9 pm. The Golden Revue show runs nightly starting at 8:15 pm. See the Alaska Salmon Bake web site for information on prices and tickets for both Salmon Bake and the Golden Revue.
6. Riverboat Discovery
The three-hour narrated Riverboat Discovery tour takes you on a relaxing cruise along the Chena and Tanana Rivers into the heart of Alaska and on a journey back in time. Sternwheelers played a major transportation and freight role in Alaska in the late 1800s and first part of the 1900s. The steamboating tradition of the Binkley family, who own and run Riverboat Discovery, goes back five generations to 1898 when Charles M. Binkley came to the area.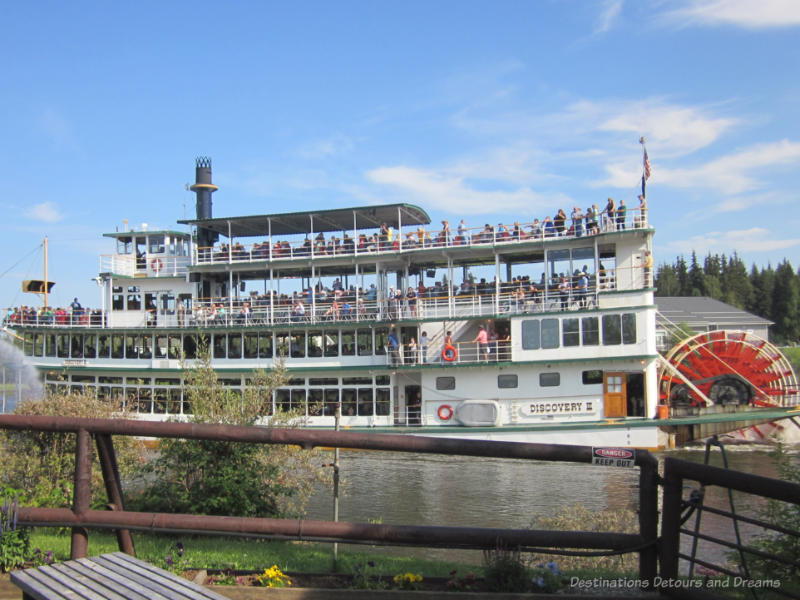 During the cruise you'll see a float plane land and take off on the water beside the boat. Float planes also played an important transportation role in Alaska's history as did dog sled teams who were the original "snow machines" before the advent of snowmobiles. The riverboat pulls up alongside Trail Break Kennel, a sled dog kennel operated by the family of Susan Butcher, a four-time Iditarod race winner. You'll see sled dogs in action and learn about what's involved in training a dog sled team.
You disembark at Chena Indian Village and spend about an hour there before reboarding the boat. Chena Indian Village is a recreated early 1900s Athabascan village. Here, you find out how various animals were used for food and protection, how Athabascans survived nomadic life, and how they adjusted to village life. You'll see the traditional process for drying salmon.
As you take in the scenery on the cruise keep an eye out for wildlife. The cruise goes past a domestic herd of caribou, but you may have unexpected sightings of other wildlife. We saw a bald eagle during our cruise.
Steamboat Landing, where the Riverboat Discovery docks and sets sail from, has a gift shop and a restaurant. Cruises run twice a day during the season, morning and afternoon. For more about my own experience read Cruising Through Alaska History and Culture Aboard a Sternwheeler.
7. Gold Dredge 8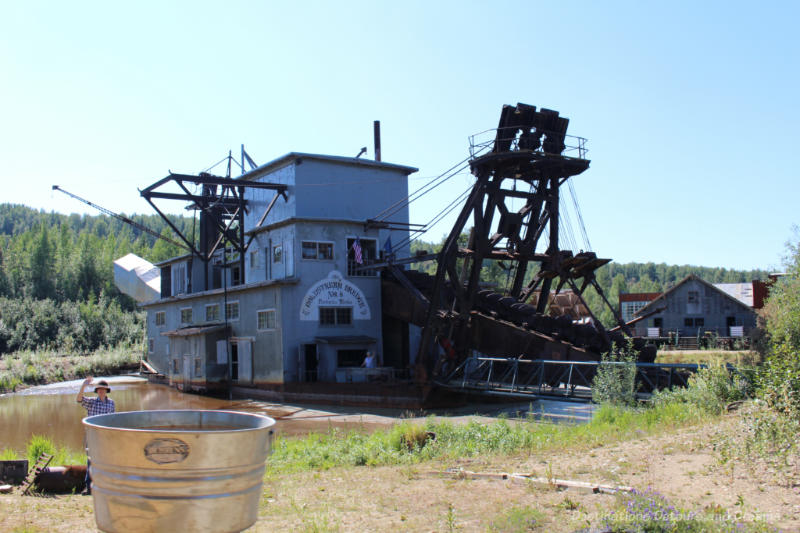 Fairbanks got its start in 1902 when gold was discovered in the area. In the 1970s the building of the Trans-Alaska pipeline to transport oil from Purdhoe Bay to Valdez created another boom time in Fairbanks. Both the pipeline and the gold era are featured in the Gold Dredge 8 tour.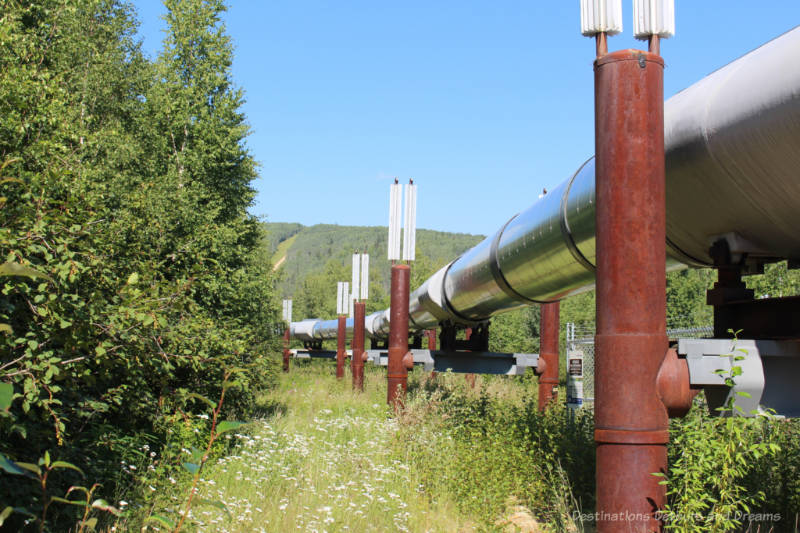 The tour begins alongside the pipeline. You not only see the pipeline, you learn about the engineering challenges in building the pipeline. Built in permafrost, it needed to survive expansion and contraction during temperature changes and movement during earthquakes.
A ride on a narrow-gauge railway then takes you to a dredge that operated between 1928 and 1959. You'll learn how the dredge, described as a mechanical gold pan, worked and have an opportunity to do your own panning for gold.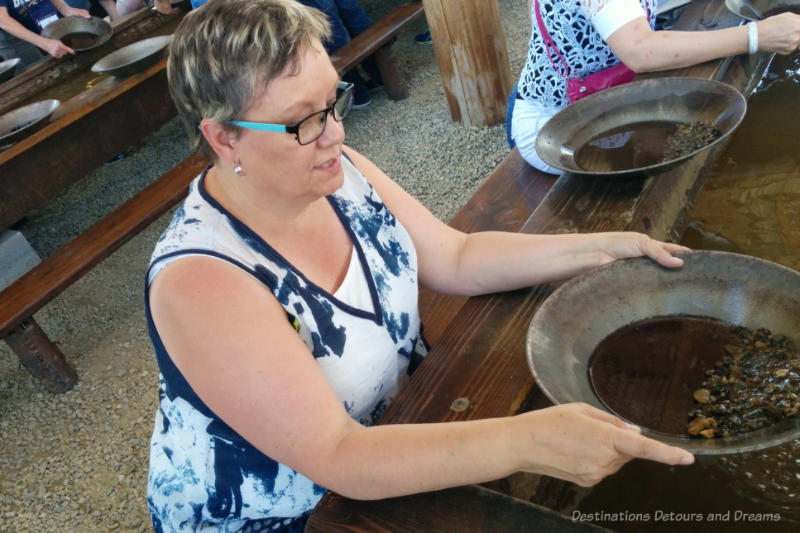 See the Gold Dredge 8 website for tour times and ticket information. To read more about my own experience see Strike It Rich: Alaska Gold and Oil History at Gold Dredge 8.
8. Fountainhead Automobile Museum
When you think of things you might see and do when visiting Alaska, a vintage automobile collection isn't likely to be on that list, but the Fountainhead Antique Auto Museum merits being high on your list of things to see in Fairbanks. It contains a world-class vintage automobile collection and is an excellently curated museum. Its displays about the automobile age include more than just vehicle information.
The vehicles date from Victoria times to World War II. They represent significant developments in automotive design and engineering. Some are extremely rare survivors. Others are some of Alaska's earliest cars and have associated Alaska stories. Period fashions are displayed on mannequins standing beside the vehicles. Other accessories and photographs combine to showcase social history as well as automobile history.
There are over 95 vehicles in the collection with 65 to 75 on display at any given time. All but 3 vehicles in the collection are operable. Visit the Fountainhead Antique Auto Museum website for information about opening hours and ticket prices. To learn a bit more about the collection and see a sample of photographs from my visit, read Vintage Transportation and Dress at Fountainhead Auto Museum in Fairbanks.
9. Georgeson Botanical Garden
Georgeson Botanical Garden is located at the Fairbanks Experiment Farm and is part of the University of Alaska. Its mission is "to discover, share knowledge, and inspire people about high-latitude horticulture." The growing season in Fairbanks is short but intense with close to 24 hours of sunlight for several months. That intensity results in record-sized produce and increased sweetness. Alaska is known for its giant vegetables, the most famous being the cabbage.
You'll find vegetables in a portion of Georgeson Botanical Garden. You'll also find a display garden of brightly blooming flowers, a shade garden, a dye garden with plants harvested by the Fairbanks Weavers and Spinners Guild to create dyes for their yarn, a children's garden, and a cabana in which to sit and watch the birds. Compared to other botanical gardens I've visited Georgeson Botanical Garden is on the small side, but it is beautiful and interesting. You can read more about my visit here.
10. Tanana Valley Farmers Market
You may find some of those famous Alaska giant vegetables at the Tanana Valley Farmers Market. The Saturday market is the oldest established farmer's market in Alaska. Stalls are located in its permanent building as well as outside on the grounds in front of the building. Vendors sell fresh produce and food products, baked goods, preserves, and  a variety of Made in Alaska arts and crafts. Enjoy something to eat while watching onsite entertainment.
Bonus Things To Do: Special Events
Golden Days
The five-day Golden Days event occurs in the third week of July. The festival is kicked off on Saturday with the largest parade in Alaska. Also held on that Saturday is the Rubber Duckie Race in which 8,000 rubber ducks are dropped in the Chena River where they "race" for a quarter-mile. You can buy a duck for $5 or $10 and win $5,000 or $10,000 if your duck is the first across the finish line. Other events include a street fair, costume contests, a BBQ cook-off, a river regatta, and Old Tyme games at Pioneer Park.
World Eskimo-Indian Olympics
The World Eskimo-Indian Olympics is a four-day event that takes place annually in Fairbanks in July. The competitions are quite different than those you'll see in the Olympic Games run by the International Olympic Committee. Blanket toss, knuckle hop, ear pull, stick pull, knee jump, and scissors broad jump are just a few of the featured games. The games display the skills one needed for survival in the north and stem from age-old games. I wrote about the games in Competition and Community at the World Eskimo-Indian Olympics.
Bonus Things To Do: Beyond Fairbanks
North Pole, Alaska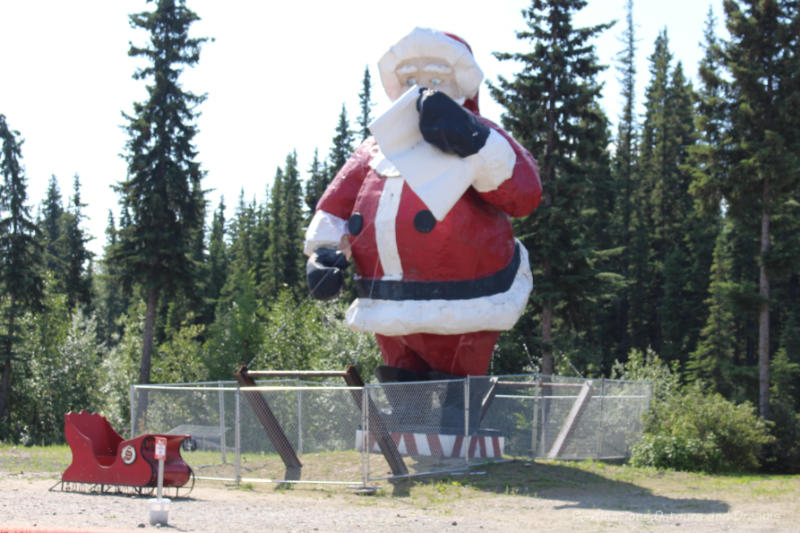 Fifteen miles south of Fairbanks, you'll find the community of North Pole Alaska, where a community of 2,200 people keep the spirit of Christmas alive all year. You'll find street lights decorated in candy motifs and streets with names like Santa Claus Lane, Kris Kringle Drive, and Mistletoe Lane.
North Pole began in 1952 when a development company purchased a homestead, sub-divided it, and renamed it North Pole, hoping to attract a toy company to the area. No toy company showed up, but a city council member opened a trading post and other businesses embraced the Christmas town theme. Today that trading post, Santa Claus House, is the best-known attraction in town. The sprawling store holds aisle upon aisle of Christmas ornaments and toys.
Chena Hot Springs
Chena Hots Springs Resort is located about 60 miles northeast of Fairbanks. The all-season resort has 80 rooms as well as RV and camping spots. It is built around hot springs. The outdoor lake is adults only, but the adjacent pool house contains a family salt water pool and chlorinated hot tubs. There is a lot more to do at the resort beyond the pools. Activities include hiking, biking (rentals available) ATV tours, horseback riding, and canoe rentals. Tour the resort's greenhouse and the geothermal plant that provides heating for part of the resort.
The Chena Hot Springs Kennel houses 100 Alaskan-bred dogs and offers the opportunity to learn about dog mushing, Alaska's official sport. You can see the dogs, learn about the sport and what's involved in training the dogs. If it's not too hot to work the dogs, you can take a dog cart ride.
The most unusual attraction at Chena Hot Springs Resort is the Aurora Ice Museum. Walls, floors, and everything inside ("furniture" and a collection of sculptures) are made of ice. It is illuminated with coloured lighting and kept frozen all year round. Entrance is via group tours. Parkas are provided.
Note that although the road to Chena Hot Springs is fully paved and well-maintained, there are very few buildings and places to stop. There was very little traffic when we drove the route. It can feel quite deserted, but the forest-lined drive is scenic. You can read about my visit in the post More Than Healing Waters at Chena Hot Springs Resort.
Denali National Park and Preserve
Denali National Park and Preserve is home to a vast, unspoiled wilderness of glacial rivers, mountain peaks including the highest peak in North America (Denali), and tundra. Wildlife found in the park include moose, caribou, grizzly bears, Dall sheep, and wolves. Denali Park is a 3-hour drive (4-hour train ride) from Fairbanks. That means that technically it could be a (long) day trip, but you really need to spend at least two or three days to fully appreciate the experience. We didn't have time to do that, but wanted to see the park. We squeezed in a day trip. We're glad we did, but we really didn't have enough time for anything other than a cursory introduction.
The 92-mile Denali Park Road, the only road in the park, takes you through beautiful landscape. During the summer private vehicles can only drive the first 15 miles to a place called Savage River. There are numerous pullouts along the way to stop and enjoy the view or take some photos. If you want to drive through more of the park, you need to take a narrated tour bus or a non-narrated transit bus. Note that because of the timing of the bus tours, it is not possible to take one on a day trip from Fairbanks. Another reason to make the visit a two or three day event.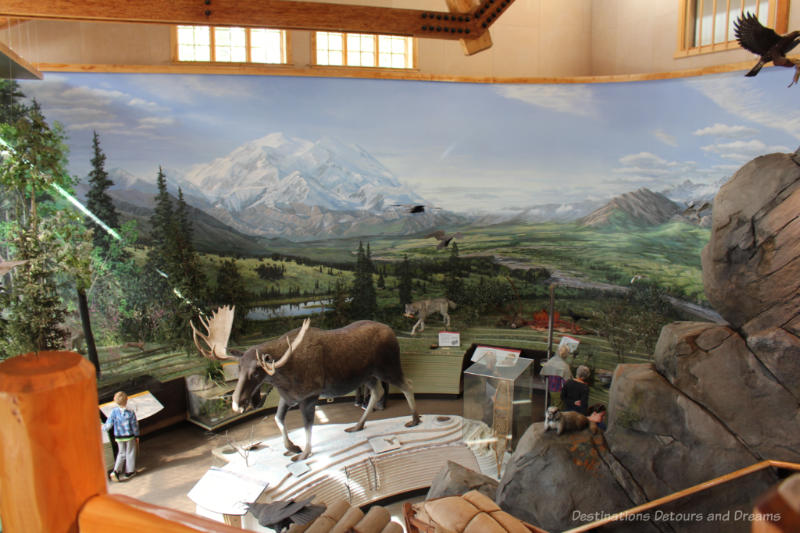 Things to do in the park include hiking, cycling, ATV tours, zipline tours, rafting, wildlife viewing, and visiting a sled dog kennel. The Visitor Center contains a variety of exhibits about the natural and cultural history of the Denali area. Ranger talks and guided walks are available. For more information, see the Denali National Park & Preserve website.
There is camping in the park. Other types of lodging are available in the communities of Healy, located about 11 miles north of the park entrance, and Cantwell, located about 30 miles south of the park entrance.
Never miss a story. Sign up for Destinations Detours and Dreams free monthly e-newsletter and receive behind-the-scenes information and sneak peeks ahead.
PIN IT